Brexit Is Seen Costing Pharma Hundreds of Millions of Pounds
(Bloomberg) -- Brexit uncertainty is forcing drugmakers in Britain to invest hundreds of millions of pounds to maintain the steady supply of medicines to patients, siphoning off money that could have gone to developing new treatments, the head of the U.K.'s industry group said.
Pharmaceutical companies are preparing for potential regulatory and trade hurdles after the U.K. leaves the European Union, expanding testing facilities, moving marketing authorizations and drafting contingency plans. Regulatory alignment between the EU and Britain makes sense to all sides, and if Britain remains part of Europe's drug-approval system, a lot of the investment may prove to have been unnecessary, said Mike Thompson, chief executive of the Association of the British Pharmaceutical Industry.
"People will look back and say this money has been wasted," he said in an interview Thursday. "Every pound and euro, we want to invest into science and research and finding new medicines."
Pharma companies rely on the ability to move personnel, raw materials and products quickly over borders. While business leaders are urging Prime Minister Theresa May to finalize key Brexit decisions, many are already conducting costly preparations for a rocky break with the EU as the U.K. hurtles toward exiting the bloc in March 2019.
GlaxoSmithKline Plc and AstraZeneca Plc, the U.K.'s two biggest drugmakers, have said they may have to increase their use of testing facilities in the EU. Glaxo has estimated its Brexit costs rising as high as 70 million pounds ($94 million) over the next two to three years. U.S.-based Merck & Co., one of the world's biggest pharmaceutical companies, may stockpile as much as six months of goods and revise trade routes to be ready for supply blackouts and bottlenecks, according to a person familiar with the matter.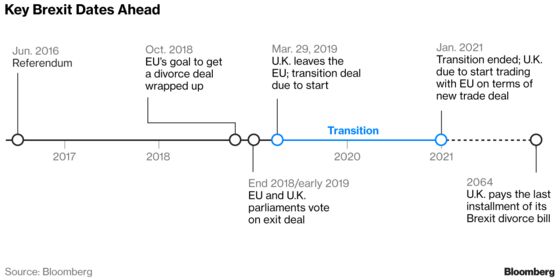 Spending to duplicate efforts and facilities is frustrating, Thompson said.
"But we've got to live with it," he said. "You've got to grit your teeth and spend the money because you need to be able to deliver medicines to patients."
The British pharmaceutical sector, working with the government, is planning to unveil a second round of investment commitments in life sciences toward the end of this year, following an initial deal with more than two dozen companies that was announced late last year, the lobbyist said.
"A significant number of other companies are looking to make investments here," with data infrastructure a key focus, Thompson said. "Although Brexit is going to be inevitably challenging in terms of some of the short-term impacts, the fundamentals in the U.K. remain strong."
The industry is concerned about possible delays in evaluating new drugs when the European Medicines Agency, the bloc's regulator, moves to Amsterdam from London, he said. The agency is bracing for higher-than-anticipated staff departures due to a host of issues, including the effect of local labor laws on short-term contracts, EMA Executive Director Guido Rasi said in an interview last week.
There's no doubt that some jobs will be created in the Netherlands by companies seeking to be close to the agency, Thompson said.