Germany's Banking Turkeys Won't Fly Anytime Soon
(Bloomberg Opinion) -- If Germany has too many banks and beleaguered lender Deutsche Bank AG is too reliant on its trading businesses, wouldn't a merger with rival Commerzbank AG fix two issues at once?
Probably — but for Deutsche's chairman to bring it up now is as ill-timed as cracking a joke at a funeral. His bank needs to address its problems first before proposing such a risky and costly German solution.
What Deutsche Bank lacks right now is strong leadership and strategic clarity rather than a nifty Powerpoint presentation about potential deals. The shares, down 41 percent so far this year, are trading at close to their lowest level in decades. New CEO Christian Sewing has failed to convincingly articulate how the bank will turn the page on three straight years of losses. Deutsche wants to shrink, but has been slow to exit businesses. Revenue is dwindling and employees are defecting.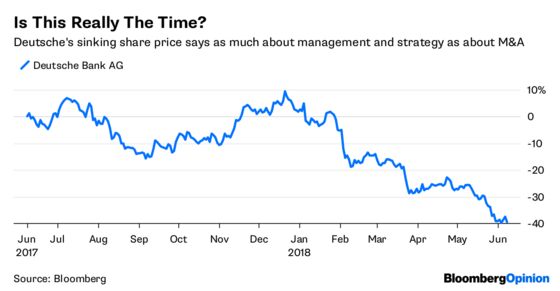 Against this backdrop, Chairman Paul Achleitner — who earlier this year angered some investors by turfing out CEO John Cryan — is unlikely to score popularity points by bringing up a merger with Commerzbank.
The rewards of such a tie-up — cost savings, a bigger market share and a more diversified business — seem far away. Losses from restructuring, further capital-raisings and management spats look closer. Deutsche shares were down 1.8 percent on Friday morning.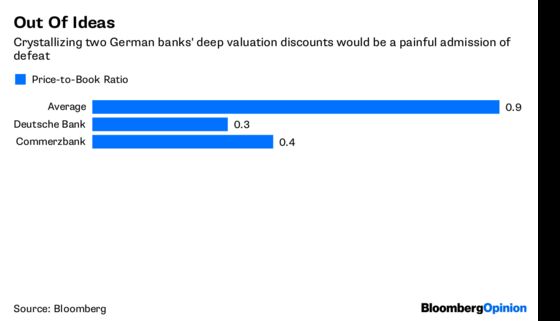 Putting Deutsche and Commerzbank together would go some way towards creating a German champion, but it's like strapping two turkeys together in the hope they'll fly. These are two of the most steeply discounted bank stocks in Europe — crystallizing that valuation now would be embarrassing and potentially self-defeating for investors.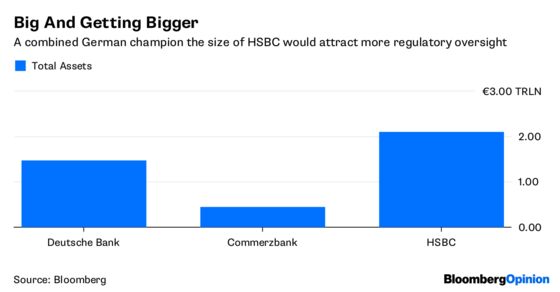 Their combined 2 trillion-euro ($2.4 trillion) balance sheet, close in size to that of HSBC Holdings Plc, would likely require more oversight from regulators and an extra capital cushion to absorb losses.
And as attractive as it might seem to consolidate Germany's fragmented and tough banking market, the need for a wave of domestic layoffs to make the numbers work would doubtless attract flak from politicians and labor unions. Deutsche Bank has about 1,500 outlets in Germany, and Commerzbank has 1,000. The market is still so fragmented that their combined market share would be only about 12 percent of German deposits.
Sure, a German solution has logic, and probably has more chance of flying than a cross-border merger — which would likely be a bridge too far for regulators. But Deutsche Bank would to better to look its previous CEO's view on consolidation.
"It takes the management's eye off the ball," he warned in 2017. "You have to ask yourself: Is it not better to look forward and to grow your business organically."
If ever eyes needed to be on ball, it's now.