U.S. Recalls Citizens From China to Probe Mystery Ailment
(Bloomberg) -- The State Department has recalled some Americans stationed in China to investigate a mystery ailment that the agency compared to health issues previously detected among U.S. diplomats in Cuba.
Heather Nauert, a State Department spokeswoman, said Wednesday night that a medical team had been sent to examine employees at the U.S. consulate in the southern Chinese city of Guangzhou, after one "employee had suffered a medical incident that was consistent with what American personnel in Havana, Cuba, had experienced."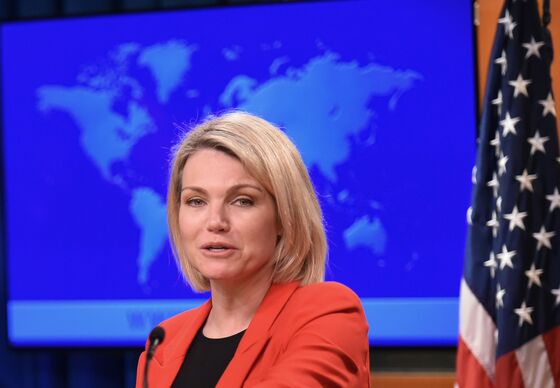 The examinations "are ongoing for any personnel who have noted concerning symptoms or wanted baseline screening," Nauert said. "The department has sent a number of individuals for further evaluation and a comprehensive assessment of their symptoms and findings in the United States."
The State Department declined to comment on individual cases, and said China has assured U.S. officials that it's investigating the incidents.
After the U.S. first issued a health alert about the incident last month, China said it was committed to ensuring the safety of diplomatic personnel stationed on its soil. Foreign Ministry spokeswoman Hua Chunying told reporters in Beijing on Thursday that China has "adopted a responsible attitude to investigate relevant issues and hasn't found cause or clues," adding that Washington hadn't contacted Beijing about the issue since the first case in May.
The health scare comes at a sensitive time between the world's two largest economies, which have clashed in recent days over everything from trade to territorial disputes in the South China Sea. The Pentagon last month complained to Beijing that Chinese personnel had pointed lasers at U.S. military aircraft near the East African country of Djibouti, a claim China denies.
In the Cuba episode last year, more than 20 people fell ill with injuries including hearing loss, cognitive difficulties and sleep problems in what the State Department initially called an "attack." The U.S. recalled half its diplomats in the Caribbean nation and warned Americans against traveling there. It also expelled 15 Cuban officials from Washington.
President Donald Trump has said he believed Cuba knew about the attacks, although State Department has since refrained from using the term. Investigators still haven't determined the source.
Secretary of State Mike Pompeo said at a congressional hearing last month that an American stationed in Guangzhou experienced similar symptoms from late 2017 through April of this year. That person reported abnormal sensations of sound and pressure before being diagnosed with a mild brain injury.
"We are working to figure out what took place both in Havana and now in China, as well," Pompeo said at the time.
The secretary of state has formed a task force to coordinate with other U.S. agencies on reports of diplomatic health concerns. "The task force will continue to address the unexplained health incidents that have affected U.S. government personnel and their family members stationed overseas," Nauert said Wednesday.