Paul Ryan Brushes Back Trump `Spygate' Assertion, Opposes Pardon
(Bloomberg) -- House Speaker Paul Ryan said he agrees that an FBI informant wasn't spying on Donald Trump's campaign, contradicting assertions by the president.
Ryan, responding to a reporter's question Wednesday in Washington, said he stands by the statements of House Oversight Chairman Trey Gowdy, a South Carolina Republican.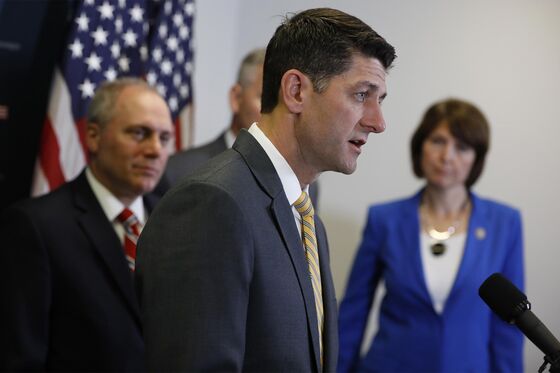 Gowdy said in a TV interview last week that Russia was the target of the FBI and that "the fact that two people loosely connected with the Trump campaign may have been involved doesn't diminish that Russia was the target and not the campaign." Gowdy's comment, in an interview on "CBS This Morning," was a rare Republican rebuke of Trump's repeated complaint that he was the victim of an unprecedented scandal he has dubbed "SPYGATE."
"I think Chairman Gowdy's initial assessment is accurate," Ryan told reporters. "We have some more digging to do."
Ryan, Gowdy and House Intelligence Committee Chairman Devin Nunes attended a classified briefing with officials from the FBI and Justice Department last month to review material related to the investigation.
Nunes of California told Fox News on Sunday that the FBI "actually targeted a political campaign that was Donald Trump, and that's where I think –– even though Mr. Gowdy believes that the president's not a target of this investigation, his campaign is and that's where I think the challenge occurs."
Ryan also said that even if Trump has the legal authority to pardon himself, that's not something he should do because "no one is above the law."