Bullish Signs in These Seven Charts Boost Emerging Markets
(Bloomberg) -- Emerging-market bulls are back.
From Goldman Sachs Group Inc. to Morgan Stanley and Citigroup Inc., analysts say optimistic signs are hard to miss, touting high real interest rates, inflation that's close to all-time lows and for the most part, the disappearance of those pesky current-account deficits so common to the 2013 taper tantrum.
Just one month ago, markets were abuzz with alarm that U.S. Treasury yields would not only soon break 3 percent but were also poised to jump to 4 percent. That fear has dissipated. Franklin Templeton Investments now says 10-year yields will actually fall to 2.5 percent. And guess what: During the five longest stretches when yields hovered between 2.5 and 3 percent, emerging-market stocks rallied on average 3.7 percent, while currencies appreciated 0.4 percent.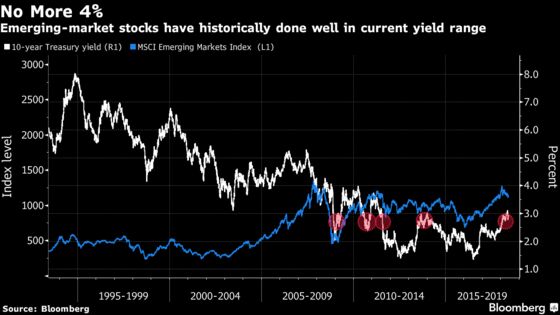 That's not to mention seasonality. May has historically been the worst month for emerging-market currencies, with average losses of 0.5 percent since 1999. June, by contrast, boasts average gains of 0.7 percent over the same span.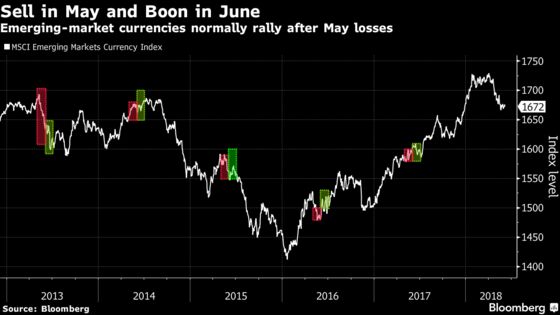 Add to that the likelihood of lower volatility. In three of the past four World Cup years, emerging-market volatility declined in June.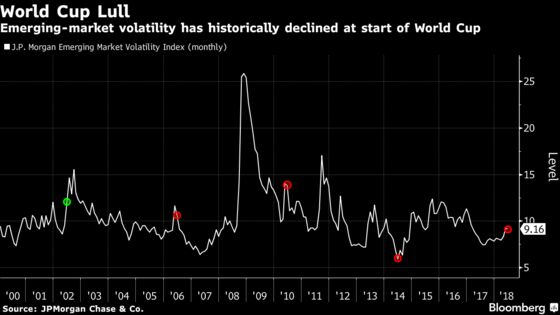 While emerging-market equities aren't as attractive as they were last December, they still trade at a 28 percent discount to U.S. stocks. It's on this basis that Research Affiliates, a sub-adviser to money managers including Pacific Investment Management Co., expects those stocks to lead global assets during the next decade, with an average annual return of 6.1 percent.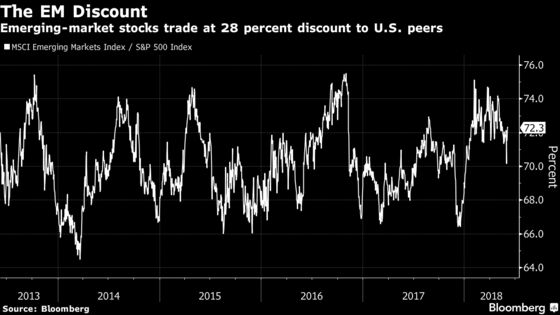 Another tailwind for equities is the widening growth differential between emerging and developed countries. Historically, a growth premium has often corresponded with stock outperformance as well as dollar weakness.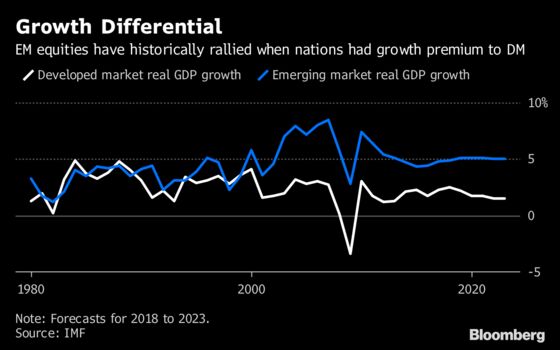 Developing nations also have improved their trade competitiveness compared with 2015, when a basket of emerging-market currencies fell 7.4 percent.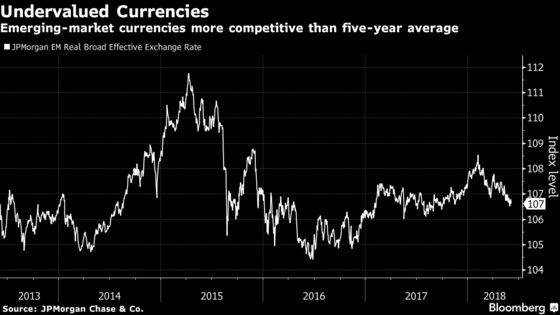 And finally, while rising yields underscore the risks in emerging markets, they offer an opportunity for money managers who can pick their spots right.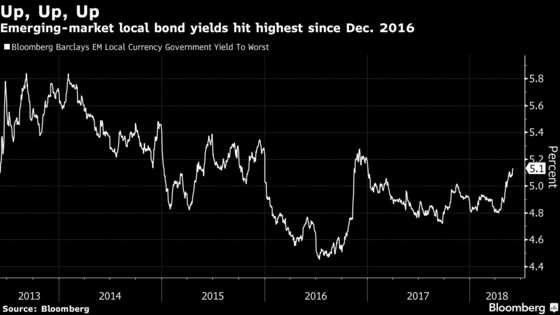 The MSCI Emerging Markets Index rose 0.5 percent at 11:11 a.m. in New York, extending its weekly advance.