Billionaire Given Second Chance to Form Czech Government
(Bloomberg) -- President Milos Zeman gave the Czech Republic's billionaire prime minister, Andrej Babis, a second shot at forming a majority-backed government on Wednesday, more than seven months after he won general elections.
Babis is waiting for the Social Democrats, his former coalition allies, to decide whether they will join him in power again as other mainstream parties shun him because of an ongoing criminal probe. To muster a majority in parliament, Babis has also turned to the country's Communists for tacit support, giving the anti-NATO party its biggest influence in politics since democracy was restored in 1989.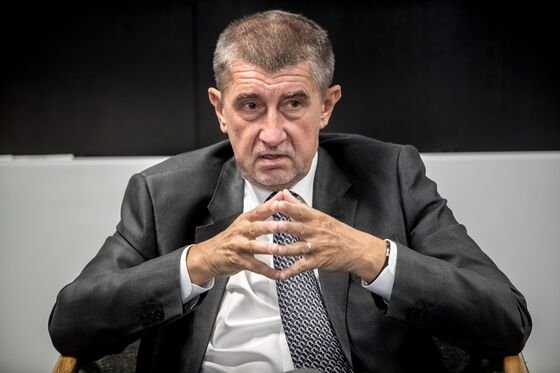 Babis, who built his party's popularity on vows to keep Muslim migrants out of the country and displace what he said were incompetent politicians, is now promising to boost salaries for teachers, raise pensions and speed up highway construction. Still, the ex-finance minister wants to maintain one of the European Union's lowest budget deficits and debts.
Read more: Economic program proposed by Babis for the next government
Zeman appointed the second-richest Czech as premier on Wednesday, more than a week before the Social Democrats announce the result of the internal ballot on whether to join Babis in power. Critics of Babis and the president say Zeman's decision is an attempt to grab more influence for his position, which is largely ceremonial.
"Naming the prime minister before the result of the referendum is known could pressure some party units to vote to join the government," said Jakub Charvat, a political scientist at the Metropolitan University in Prague.
While the Social Democrats' leadership is in favor of teaming up with Babis, some senior members have warned that joining him before the criminal probe is over could hurt the party's popularity. Babis rejects any wrongdoing and rejects the accusations that he fraudulently used EU subsidies as an attempt by his rivals to kill his political ambitiions.
His decision to turn to the Communists for backing has also sparked a series of protests, with several thousand demonstrators marching in Prague on Tuesday.
"We've never had a scenario of the Communists supporting the government, albeit indirectly," said Josef Mlejnek, a political scientist from Charles University in Prague. "They will try to weaken relations between Czech Republic and western structures, especially with NATO."