Anti-Immigrant View Adopted by Denmark's Biggest Political Party
(Bloomberg) -- Having anti-immigration policies has gone well and truly mainstream in Denmark.
The country's biggest political group, the opposition Social Democrats, this week ended long-standing ties with the Social Liberals that count European Commissioner Margrethe Vestager among their members. The move followed the latter group's perceived soft views on immigration.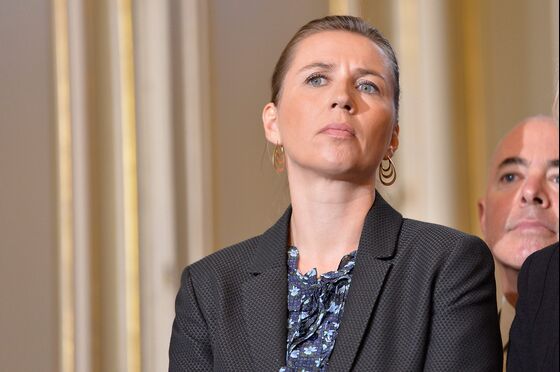 Instead, Social Democrat leader Mette Frederiksen has publicly acknowledged a closer bond with the Danish People's Party, which has talked of dragging Denmark out of the Schengen agreement and targets a drastic reduction in the number of immigrants and asylum seekers allowed into the country. (It's worth noting that a former Social Democrat prime minister, Poul Nyrup Rasmussen, back in 1999 attacked the DPP for its harsh views on immigration, using a metaphor to imply the group would never be fit for polite society.)
With general elections due no later than June 2019, most polls show that Frederiksen has a good chance of becoming Denmark's next prime minister. If she defeats the center-right coalition of Prime Minister Lars Lokke Rasmussen, Frederiksen said this week she intends to form a one-party government, without the Social Liberals. At the same time, she has made clear she'd be happy to accept parliamentary support from the DPP.
Defending her decision to turn her back on the Social Liberals, Frederiksen said, "The differences have become too big." She said her new affiliations have brought the Social Democrats more "in line with the view of Danes on immigration, and we will continue on that route."
Coalition governments are the norm in Denmark. After trying to run a government that consisted only of his Liberal Party, Lokke Rasmussen in late 2016 conceded the project was untenable, and expanded his administration to become a three-party coalition that rules with the support of the Danish People's Party in parliament.
Kristian Thulesen Dahl, the leader of the DPP, has welcomed Frederiksen's stricter views on immigration, though for now he says he will continue to back Lokke Rasmussen.
But Danish media have been full of political commentary noting that there's a good deal more chemistry between Frederiksen and Thulesen Dahl than between the DPP leader and Lokke Rasmussen.