U.S. vs North Korea: A Fraught History in Pictures
(Bloomberg) -- Donald Trump is set to become the first sitting U.S. president to meet a North Korean leader on June 12, in an attempt to hash out an historic end to their almost 70-year conflict.

A deal with Kim Jong Un could mark the beginning of the end to a fraught history of American military involvement on the Korean Peninsula. What started as a U.S.-led attempt to stop the spread of communism became a frustrating struggle to keep the Kim regime from acquiring a nuclear weapon that can strike America.

Here we take a look at the relationship in pictures.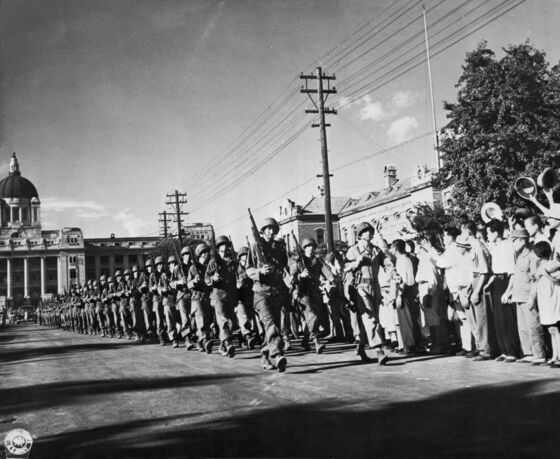 U.S. troops march into Seoul in September 1945. After Japan's surrender, the Soviet Union invaded Korea from the north and the U.S. moved its own troops into the south. By 1948, two separate Korean governments were vying to reunify the country under its own flag.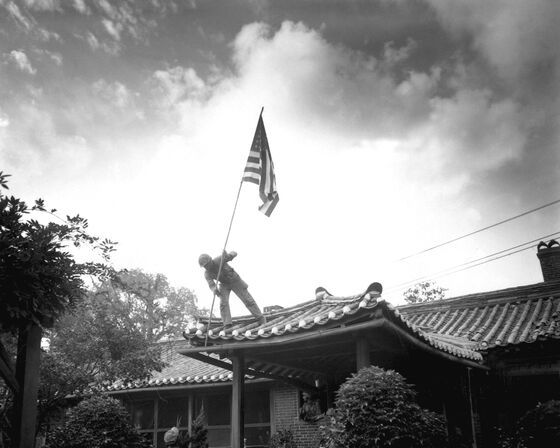 A Marine raises the American flag at the U.S. consulate in Seoul in September 1950, after northern troops invaded. Fifteen other nations joined a United Nations counter-offensive led by General Douglas MacArthur, who pushed north toward the Chinese border.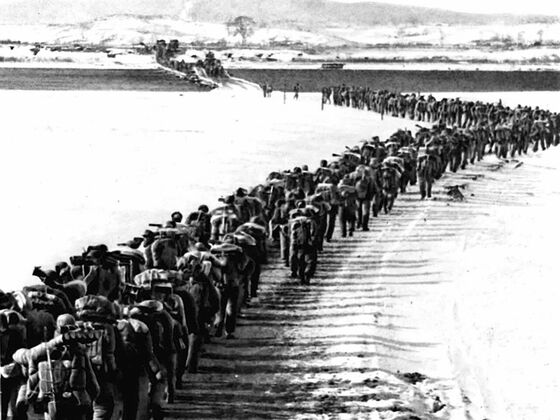 Chinese troops stream across the Yalu River into North Korea in October 1950, a decisive moment in the conflict. The unified communist force pushed the United Nations troops south of the 38th parallel and Seoul changed hands four times in two years.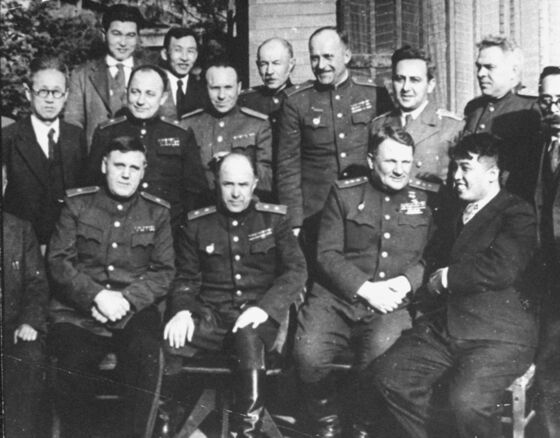 North Korea's first supreme leader, Kim Il Sung, front row right, meets with Russian advisers in November 1950. The Soviets chose to avoid direct conflict with UN troops and opted for a behind-the-scenes role.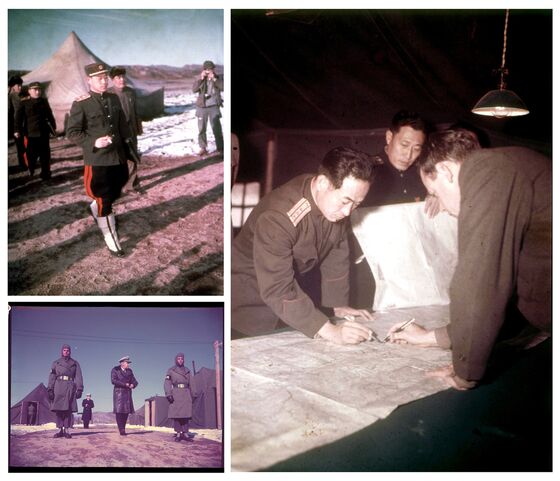 U.S. and North Korean officers arrive for ceasefire negotiations in the border village of Panmunjom in November 1951. The talks dragged on until 1953. The repatriation of prisoners from both sides was a sticking point, with many North Koreans refusing to return.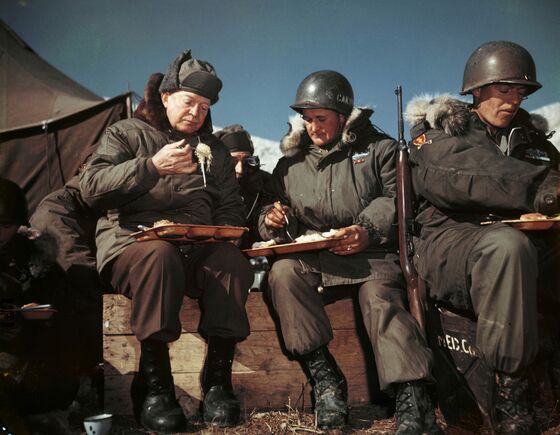 President-elect Dwight Eisenhower, left, eats with American soldiers on the front lines in November 1952. During the campaign, Eisenhower criticized President Harry Truman's inability to end the war and pledged to see for himself.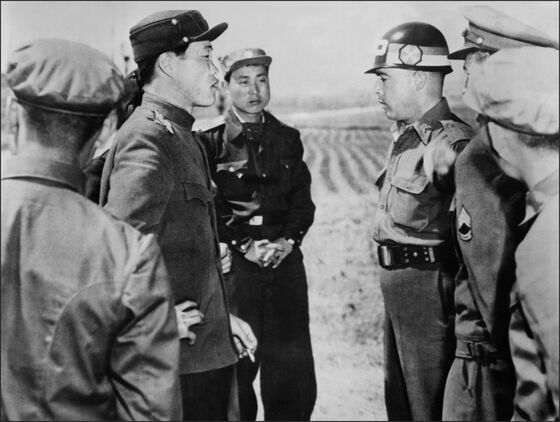 A U.S. liaison officer, right, argues with a North Korean counterpart in April 1953 at the crossing point in Panmunjom during armistice talks.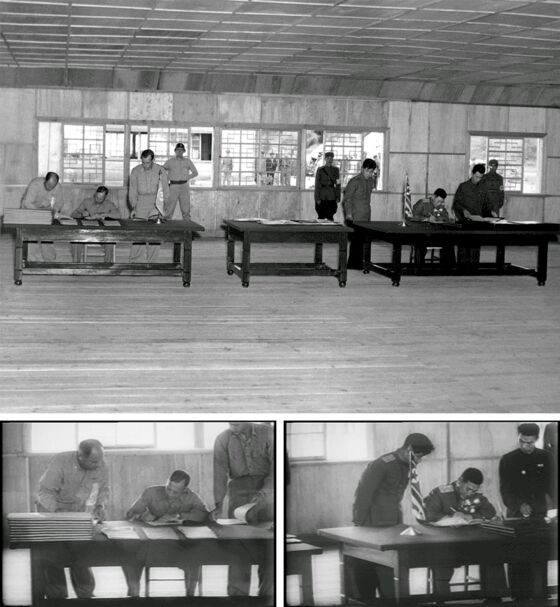 Generals W. K. Harrison Jr., left, and Nam Il, right, sign the armistice halting the three-year conflict in July 1953. South Korea refused to take part and a formal peace treaty has yet to be agreed.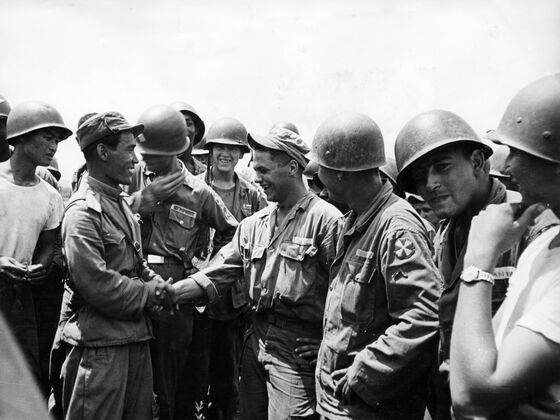 American soldiers meet counterparts from the Korean People's Army at a joint celebration after the armistice signing. The truce established a 4-kilometer-wide (2.5-mile) stretch of land known as the demilitarized zone to separate the countries.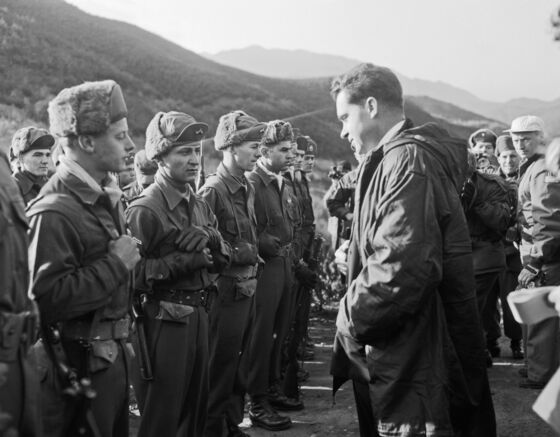 Vice President Richard Nixon visits U.S. troops near the DMZ in November 1953. One of his tasks was to deter South Korean President Rhee Syng-man, who had opposed the armistice, from restarting the war in an effort to reunite the country.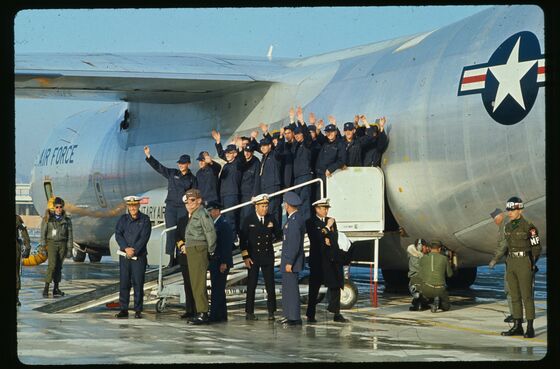 The crew of the USS Pueblo wait to board a plane in December 1968 after 11 months of North Korean imprisonment. The spy ship's capture was one of many tense confrontations between the two sides in the decades following the armistice.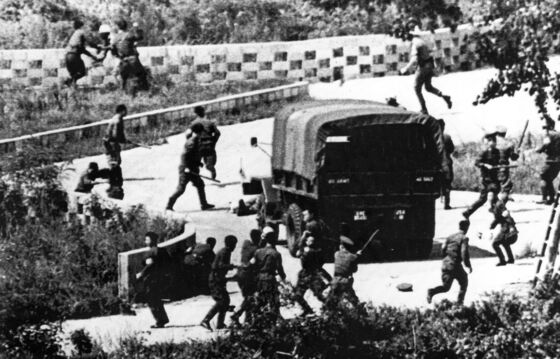 Security forces clash on the border in August 1976, when axe-wielding North Koreans killed two U.S. officers sent into the demilitarized zone to trim a poplar tree. Future president Moon Jae-in was among the allied troops who returned and felled the tree.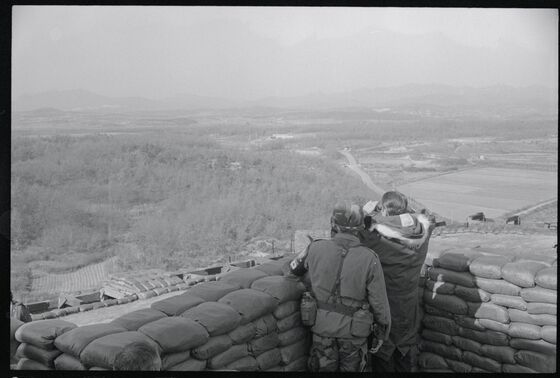 President Ronald Reagan views North Korean positions from the observation deck at the U.S. guard post at the DMZ in November, 1983. "You're facing a heavily armed, unpredictable enemy with no regard for human life," Reagan told troops.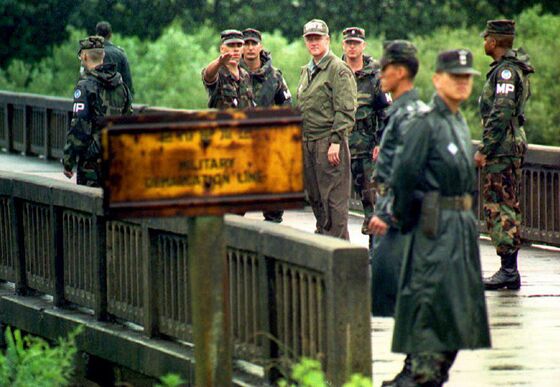 U.S. President Bill Clinton inspects the Bridge of No Return separating North and South Korea in July 1993. If North Korea ever developed or used nuclear weapons, "it would be the end of their country," Clinton said to troops.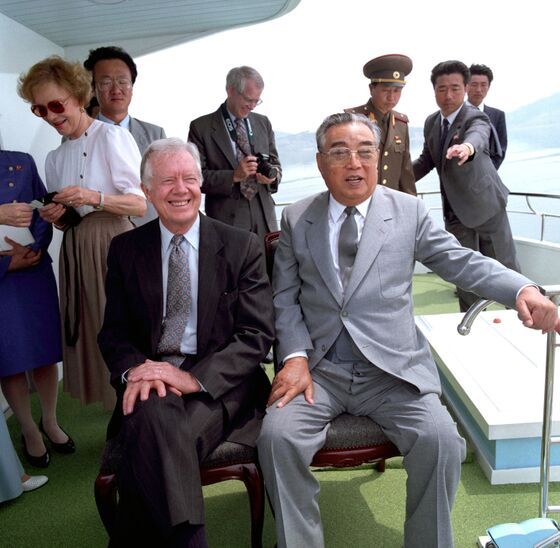 North Korean leader Kim Il Sung sits with former U.S. President Jimmy Carter in June 1994, just weeks before Kim's death. Their talks helped broker the Framework Agreement, which froze North Korea's nuclear program in return for oil supplies and two proliferation-resistant nuclear power plants.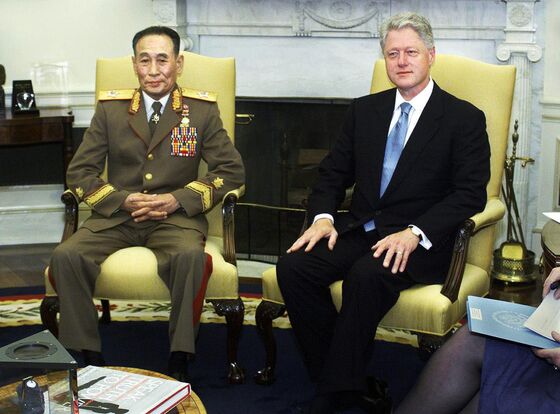 Clinton receives Kim Jong Il's second-in-command, Vice Marshal Jo Myong Rok, in the Oval office on October 10, 2000. The two countries issued a communique pledging that neither would harbor "hostile intent" toward the other.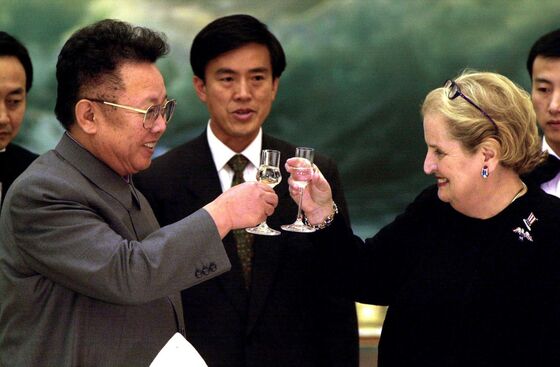 Kim Jong Il toasts U.S. Secretary of State Madeleine Albright in Pyongyang on October 24, 2000. They discussed ending North Korea's missile program and a visit by Clinton that never happened. Clinton had "insufficient time" before the end of his term.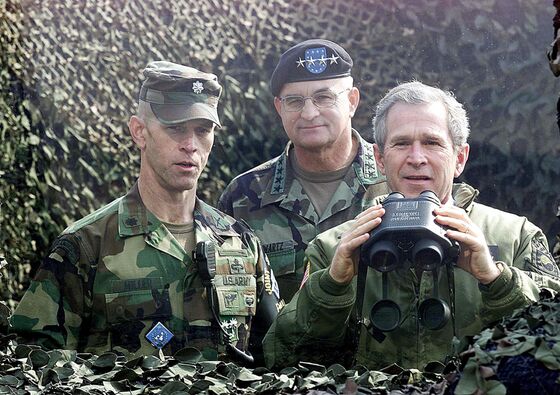 U.S. President George W. Bush looks across the demilitarized zone into North Korea in February 2002, after describing North Korea, along with Iraq and Iran, as an "axis of evil." He later pulled out of the 1994 deal, citing North Korea's progress toward a uranium bomb.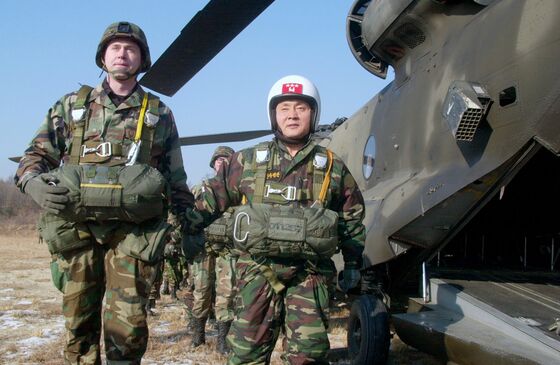 South Korean and U.S. soldiers walk from a helicopter during a joint military drill in January 8, 2003. Two days later, North Korea announced its withdrawal from the nuclear Nonproliferation Treaty. U.S. officials confirmed the regime had restarted its reactor.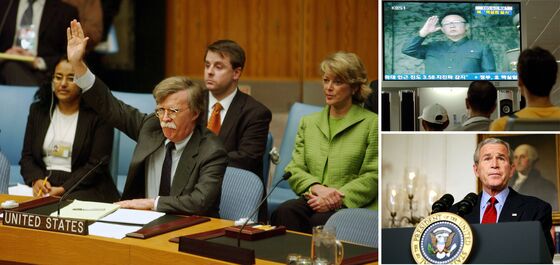 U.S. Ambassador to the UN John Bolton, left, votes on a resolution demanding a halt to nuclear tests after North Korea detonates its first atomic bomb, top right, in October 2006. Bolton, who's now President Donald Trump's national security adviser, has angered the regime by advocating a fast-track "Libya model" for surrendering its weapons.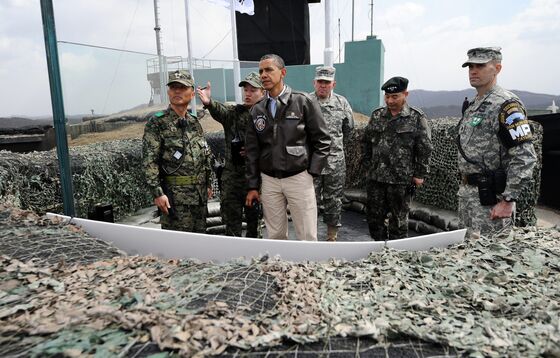 U.S. President Barack Obama visits the DMZ in March, 2012. His administration adopted a policy of "strategic patience," only engaging with Pyongyang under certain conditions. North Korea's new leader, Kim Jong Un, ignored the conditions and proceeded with its weapons programs.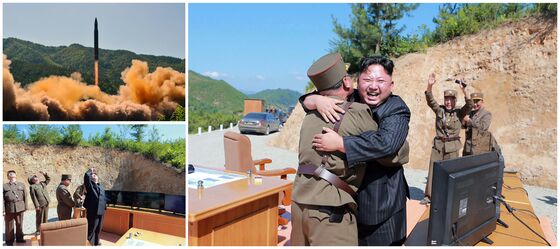 Kim Jong Un celebrates the successful test of a Hwasong-14 intercontinental ballistic missile on July 3, 2017. The launch of another ICBM later in that month demonstrated progress toward a missile capable of hitting U.S. cities such as Denver or Chicago.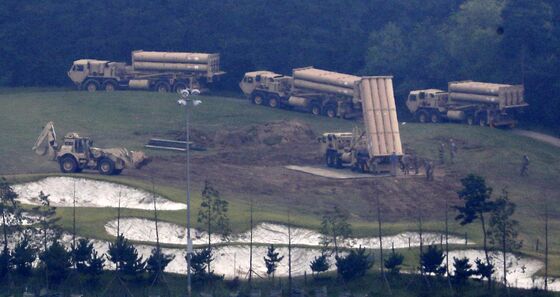 The U.S. completes the deployment of a missile-defense system in South Korea on a golf course on September 7. The deployment incensed China, which argued that the Terminal High Altitude Area Defense system, known as Thaad, had upset the region's "strategic equilibrium."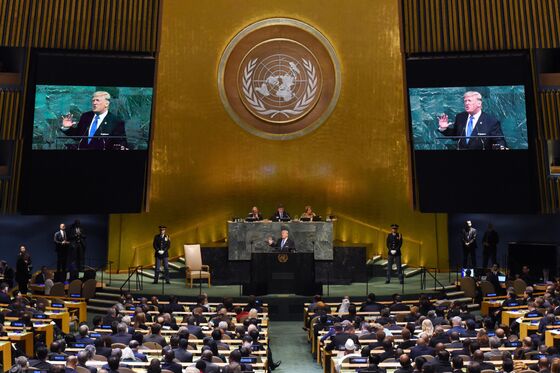 Trump warns the United Nations that the U.S. is ready to "totally destroy" North Korea and mocks Kim as "Rocket Man" on September 19.  He had previously threatened to unleash "fire, fury and, frankly, power the likes of which this world has never seen before."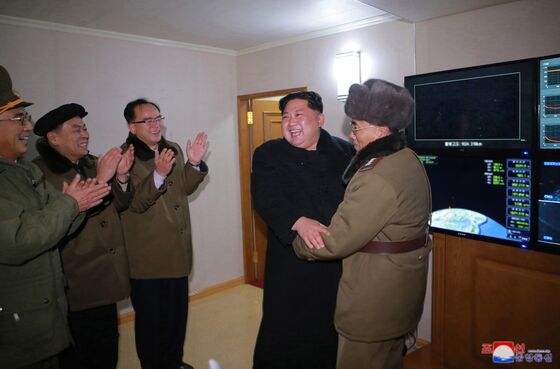 Kim Jong Un orders the launch a new, more powerful Hwasong-15 ICBM on November 28. The North Korean leader declared his weapons program "complete" after the test, which demonstrated his ability to target the entire U.S.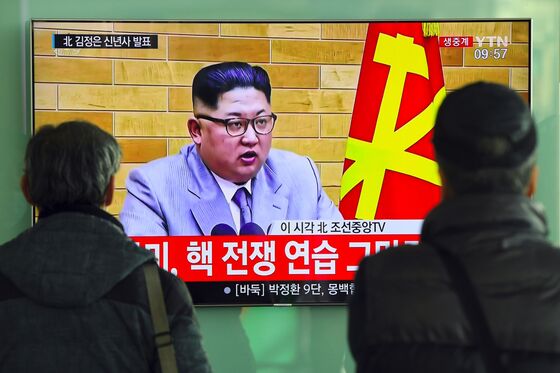 People watch a news broadcast of Kim Jong-Un's New Year's speech on January 1, 2018. While boasting about his growing nuclear might, Kim also opened the door to participating in the upcoming Winter Olympics in South Korea.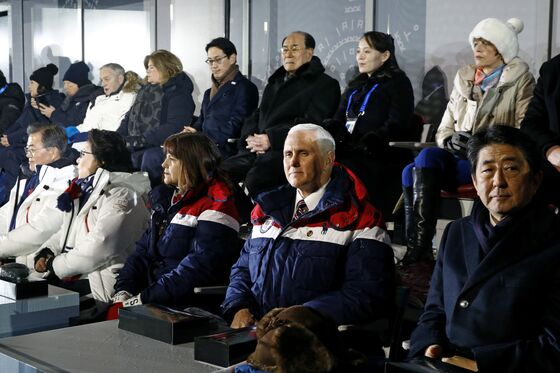 U.S. Vice President Mike Pence, front row second right, sits just feet from the North Korean leader's sister, Kim Yo Jong, during the opening ceremony of the Olympic Games on Feb. 9. They didn't meet. The event was part of a flurry of diplomatic encounters between the various parties.

South Korean envoy Chung Eui-yong, left, unexpectedly announces to White House reporters that Trump would meet Kim Jong Un. Right, a man reads a copy of South Korea's Munhwa Ilbo newspaper after the stunning diplomatic breakthrough.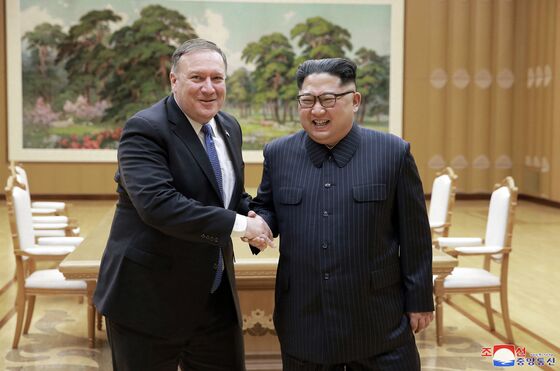 Incoming U.S. Secretary of State Mike Pompeo meets Kim Jong Un during a secret Pyongyang trip over Easter Weekend. It was weeks before the White House disclosed the meeting, which made Pompeo the highest-ranking U.S. official to visit North Korea since Albright in 2000. 
South Korean protesters hold a poster of Trump at a May 25 protest against his decision to cancel the summit, citing hostile statements from Pyongyang.  North Korea had hardened its rhetoric after Bolton and Pence made remarks about the Libya model.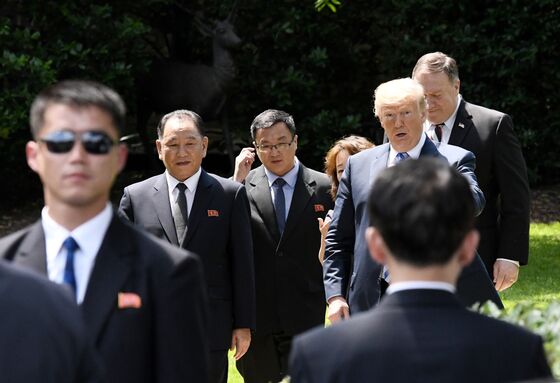 Trump crosses the White House's South Lawn with Kim's personal envoy, Kim Yong Chol, on June 1, after receiving a letter from the North Korean leader. The president announced that the June 12 summit was back on, while conceding Kim wouldn't immediately give up his nuclear weapons.