The Jailed Kurdish Politician Set to Determine Erdogan's Future
(Bloomberg) -- Turkish President Recep Tayyip Erdogan's hopes of cementing his one-man rule come down to how well he's sowed divisions among Kurds.
With several polls suggesting he'll lose his parliamentary majority on June 24 and be forced into a runoff presidential ballot, Erdogan has a lot riding on the millions of them he's tried to turn against the pro-Kurdish HDP party leader, Selahattin Demirtas, who was jailed in 2016.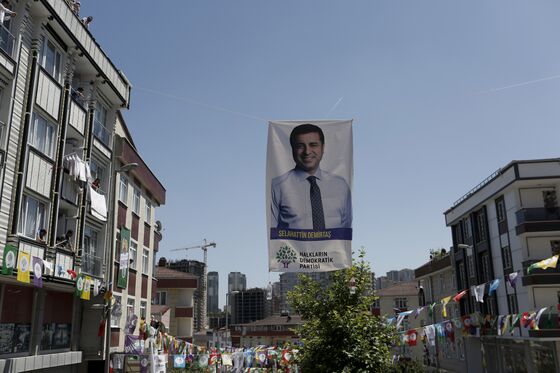 Problem is, for as many hearts as Erdogan has won among religious Kurds who like that he's put Islam at the core of national life after decades of secularism, there are enemies determined to bring him down.
"The Kurds opposing Erdogan want to settle scores with him at the ballot box," Murat Baykan, an HDP politician, said late last month at a party headquarters in the Mediterranean port city of Mersin, home to hundreds of thousands of Kurdish migrants.

He'd just returned from addressing a cheering crowd of supporters gathered at a playground, eager to hear the latest word from Demirtas, who's facing more than a dozen charges from inciting hatred to terrorism. "Our support can't be taken for granted. The candidate facing off against Erdogan in the run-off vote will depend on it," Baykan said.

While from prison, Demirtas is unlikely to be a viable presidential contender against Erdogan, three polls last month predicted the HDP will get at least 10 percent of the vote, the threshold it needs to win seats in parliament and threaten the ruling AK Party's majority. For a man who's until now had no air time on state TV and is running his campaign entirely via his Twitter page to 1.6 million followers, it's a feat.
"Kurds are waiting for June 24 to give the AKP an appropriate response," Demirtas said from his cell at a maximum-security prison in the western city of Edirne, in response to questions from Bloomberg sent via his lawyers.

The odds have been against Demirtas, 45, since the HDP won an unprecedented 80 seats in the nation's short-lived 550-member legislature in mid-2015, denying the AKP a majority for the first time in its then 13-year rule. After that, Erdogan did everything he could to malign his reputation, branding him a terrorist with ties to the PKK, the Kurdish militant group carrying out an armed insurgency in the southeast that's killed tens of thousands of people.
Erdogan then sought to blur the line between the PKK and HDP, both of which are seeking Kurdish rule in the southeast, but the HDP through non-violent political means. He jailed hundreds of HDP politicians and ousted almost 100 elected mayors in jurisdictions with large Kurdish populations. His hand-picked replacements were instructed to boost spending on infrastructure and healthcare to placate voters.
"If the Kurdish HDP can win seats in parliament, that would be a game changer," said Nihat Ali Ozcan, an analyst at the Ankara-based Economic Policy Research Foundation of Turkey. "It means that, despite all of Erdogan's efforts to cripple the power of Turkey's political Kurdish movement, Kurds could once again play a key role in denying him a majority."
Beyond the Kurdish party, Turkey's opposition has upped its game to try to unseat Erdogan. An alliance bringing together seculars, nationalists and Islamists – each fielding a presidential candidate – has agreed to back whoever Erdogan's challenger is in any runoff. They have a lot to lose if Erdogan wins; a referendum last year gave him the mandate after elections to abolish the prime minister's job and weaken the role of parliament.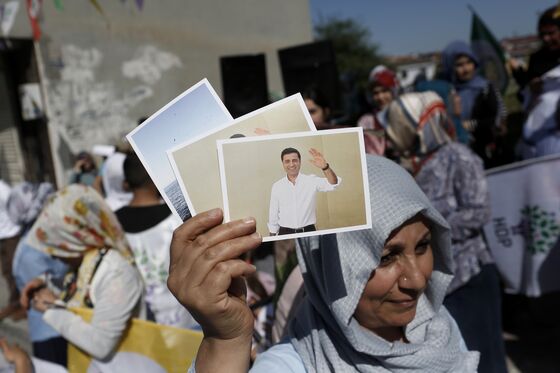 "The opposition is thinking this is the time to beat the incumbent party and its leader," said Ozgehan Senyuva, an associate professor at the Middle East Technical University in Ankara.

For more on why this is the most pivotal election in modern Turkish history, click here.

Yet even if the Kurdish vote manages to whittle down the sway of Erdogan's AK Party in parliament, it may inadvertently put him over the top if a second-round presidential vote pits Erdogan against Muharrem Ince, the candidate for the secular Republican People's Party, or CHP. Ince gained favor among Kurds for opposing a 2016 bill that ended Kurdish lawmakers' immunity from prosecution, and more recently for visiting Demirtas in jail.
This is where Ozcan says the opposition's unified stance might unravel. Other opposition parties have distanced themselves from the HDP to avoid alienating their supporters, many of whom abhor the PKK and are suspicious of Demirtas' ties to it. In his statement from prison, Demirtas refused to condemn imprisoned PKK leader Abdullah Ocalan, saying instead the government should take his calls to negotiate peace more seriously.

If the HDP were to officially throw its support behind Ince, "conservative voters would want to avoid being seen as supporting the same candidate as HDP and could instead opt to vote for Erdogan," Ozcan said.
That's how Ziya Gurkan, a 50-year-old Kurd from the southeastern province of Bitlis, sees things: "I'm inclined to vote for Erdogan. I haven't seen any harm from him and the HDP failed to act independently from the PKK," he said. Gurkan likes how the AK Party is "now taking care of the elderly and handing out cash to the pregnant" in his neighborhood.
Caykan Ekinci, a 22-year-old Kurdish university student, said he isn't fooled by Erdogan's manipulation tactics. "We are heading to elections under extremely unfair conditions," he said at the rally in Mersin, carrying a rolled up HDP flag under his arm. "While CHP is merely copying the government's policies to win votes, I can still think about voting for its candidate against Erdogan."
Demirtas' fate depends on the opposition sticking to its guns. He has 17 separate court cases pending against him that, if he were found guilty, would carry a cumulative sentence of 142 years.
"I'm not a prisoner, I'm a political hostage," he said. "My situation will be determined by political developments, not legal developments."