Slovenia Deadlock Looms as Nationalist Ballot Winner Shunned
(Bloomberg) -- Marjan Sarec, the runner-up in Slovenia's inconclusive elections, doubled down on his pledge to reject forming a governing alliance with the ballot's nationalist winner, raising the prospect of protracted political wrangling.
The standoff is threatening to send another euro-zone country tilting into political turmoil. The makeup of the next administration will decide whether the Adriatic nation will stick with the mainstream European Union politics it's followed since last decade or slides toward the euroskepticism that governments have embraced in neighbors Italy, Hungary and Austria.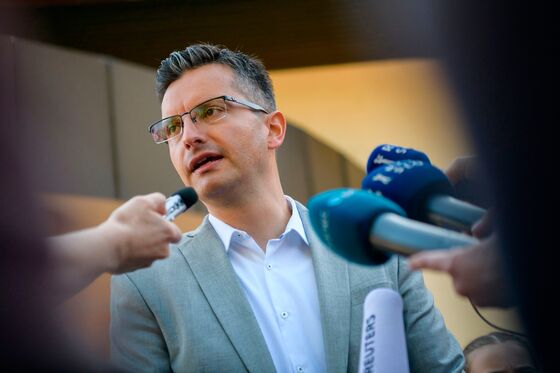 Sarec, a former comedian and failed presidential candidate, sought to shut down speculation that he would backtrack on shunning former Premier Janez Jansa after a record nine parties won seats in parliament and created a messy landscape for coalition talks. Sarec signaled he was sticking to his refusal to join Jansa, who ran an anti-immigrant campaign similar to the one that propelled populists to power in Rome. Sarec wants to create his own coalition if given the chance.
"I don't know what is so strange in the fact that before the election you say what kind of a coalition you don't want to be in and then keep that promise after the vote," Sarec, who won 13 percent of ballots, said in a Twitter post Tuesday.
President Borut Pahor said Tuesday he'll meet Jansa Thursday to "assess the chances" of his forming a new cabinet, according to a statement from the president's office Tuesday. Jansa won a quarter of the vote.
The former prime minister, who has praised Hungarian Prime Minister Viktor Orban's pursuit of an "illiberal democracy," said Sunday he was open to working with other parties but stopped short of demanding that he lead the next cabinet. His last government collapsed in 2012 in scandal and he served six months of a bribery conviction that was later overturned and for which he says he is innocent.
Most of the other parties who won spots in the 90-seat parliament have also pledged to block Jansa from power. That raises the risk of an unstable coalition emerging and makes early elections a possibility.
"Any potential coalition would likely be unstable and policy decision-making repeatedly stalled by the disparate priorities of the different parties," Otilia Dhand from Teneo Intelligence in Brussels said in a report. "The complex parliamentary mathematics points to a lengthy and volatile coalition-formation process."
Drawn-out talks may delay important decisions. Slovenia is holding talks with the European Commission on prolonging the sale of its biggest lender, state-owned Nova Ljubljanska Banka d.d., after the current government missed a deadline to dispose of it last year, the Finance Ministry said in an email Tuesday.
The future government must also agree on a replacement for former central bank Governor Bostjan Jazbec, who left for a new job in April. The governor is also a member of the European Central Bank's Governing Council.