Italy's Premier Unnerves Investors With `Revolutionary' Agenda
(Bloomberg) -- Italian Prime Minister Giuseppe Conte pledged in his maiden speech that his government will push through populist measures ranging from a "citizen's income" for the poor to tax cuts and curbs on immigration, as he called for a stronger, fairer Europe "to prevent its decline."
Conte used a speech to the Senate on Tuesday to promise "a new wind of change" based on a program of fiscal expansion drawn up by the euroskeptic Five Star Movement and League that risks breaching European Union budget rules.
Investors took fright last week at the prospect of an Italian government that could challenge the fiscal regulations binding the single currency, but Conte made no mention of the euro, nor did he make any reference to scrapping a pension reform that raised the retirement age. Instead, he tried to soothe markets -- with little effect: Bonds dropped as he laid out his program.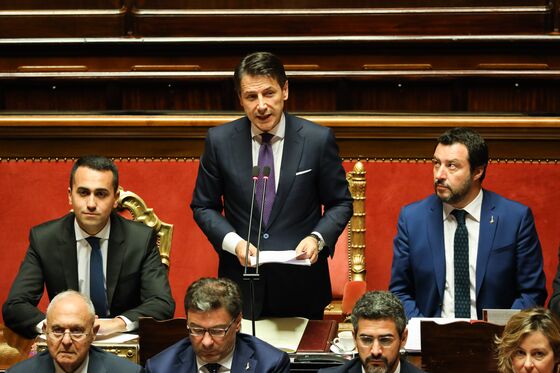 "Eliminating the difference in the economic growth between Italy and the European Union is one of our objectives, which must be pursued within a framework of financial stability and market trust," said Conte, flanked by Five Star leader Luigi Di Maio and League chief Matteo Salvini. Conte was confident about his government's "negotiating power," because Italy's interests match Europe's.
Italian government bonds extended their decline during Conte's speech as he gave investors little indication that he would diverge from the populist program. Two-year securities led losses, with yields climbing by 22 basis points to 0.93 percent as of 3:50 p.m. in Rome. Ten-year yields snapped four days of declines, rising 21 basis points to 2.73 percent.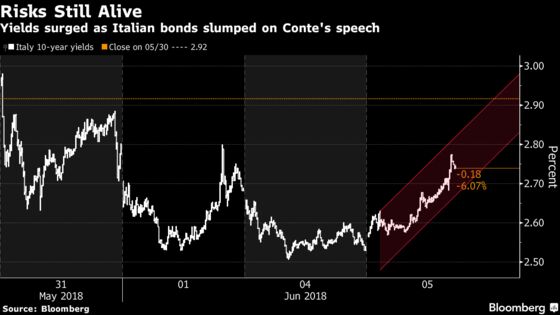 The whole spending and tax program by the two parties will cost as much as 126 billion euros ($147 billion) in its first full year, according to Carlo Cottarelli, a former International Monetary Fund executive who nearly became premier himself.
"Some may have hoped for some watering down after the market moves we saw last week," said Jan von Gerich, chief strategist at Nordea Bank AB. "But Conte talks about revolutionary measures."
The new premier's speech, his first attempt to navigate between the two party leaders' contrasting demands, will be followed by a vote of confidence in the Senate Tuesday evening, with the lower house expected to hold its ballot on Wednesday. Conte, a 53-year-old lawyer with no political experience, is expected to win both votes, despite holding only a narrow majority in the Senate.
Defending populism as "the ruling class listening to the people," Conte promised the citizen's income for the poor and the jobless, a two-tiered flat tax, and a boost in health spending -- while also promising to reduce the public debt "by making our wealth grow, not through austerity measures."
Conte also vowed "revolutionary measures" to overhaul the tax system, to review bankruptcy laws, crack down on big companies "hiding their wealth in artificial havens" and cut the perks of politicians.
The novice premier sought to reassure Italy's EU partners. "Europe is our home, the home of everyone. We must push for a stronger and fairer Europe."
With Salvini of the anti-immigrant League nodding in agreement at his side, Conte accused EU partners of "selfishly unloading on Italy" the task of dealing with immigrants from across the Mediterranean "which should have been shared." Conte said that recent comments by German Chancellor Angela Merkel show that leaders "are realizing that Italy cannot be left on its own in the face of such challenges."
Conte advocated an opening to Russia: "We will promote a review of the sanctions system, starting with those that threaten to penalize Russian civil society."
The prime minister was vaulted from faculty battles at Florence University to the head of a fractious coalition when Di Maio and Salvini needed an outsider to reconcile their different priorities. The Star Leader's priority is the citizen's income, Salvini wants the flat tax and limits on immigration.
Conte is due to rub shoulders with the likes of Donald Trump, Merkel and Emmanuel Macron at the Group of Seven summit in Canada on Friday and Saturday. His first EU summit is in Brussels on June 28 and 29 where he'll meet another first-timer, Pedro Sanchez of Spain.