Euro-Skeptics Won the Election, But Italians Still Want the Euro
(Bloomberg) -- Italy may have sworn in its first euro-skeptic government, but Italians -- many of whom voted for one of the two populist parties that will run the country together -- still say they want to stick with the common currency.
Recent surveys indicate that fewer Italians favor a euro exit. An Ipsos poll for Corriere della Sera published this week shows the share of Italians who would vote to ditch the euro in a hypothetical referendum fell to 29 percent from 33 percent in February 2017. Only a slim majority who voted for the once-rabidly anti-euro Five Star Movement said they still want to leave the euro, with 40 percent backing exit and 39 percent saying they want to keep the currency.
Another poll, conducted by Eumetra and published in daily Il Giornale May 20, showed just 20 percent of voters backing a euro exit, down from 38 percent in February 2017. Several other polls over the past month have indicated that support for an exit has fallen to less than one-fourth of the electorate.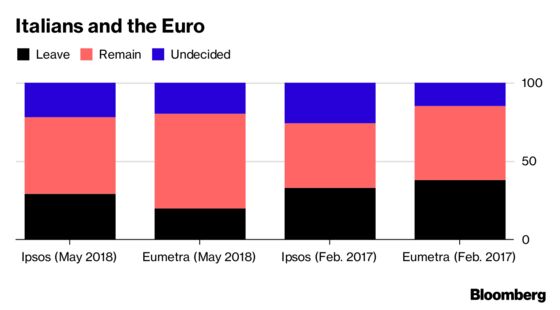 Those numbers could explain recent contortions from political leaders. Just months ago Five Star head Luigi Di Maio and League chief Matteo Salvini talked up plans to get the country out of the euro, and as they finalized a program to govern, they floated ideas like demanding a 250 billion-euro ($292 billion) debt write-off from the European Central Bank. The final version of their "contract" to run Italy didn't include a reference to the euro and Di Maio and Salvini each said last week that leaving the currency is not on the agenda.
"While markets may remain volatile, Italy's membership in the euro should not be a concern for investors," UBS Wealth Management Chief Investment Officer for Italy Matteo Ramenghi and economists wrote in a note Tuesday. Italian households hold 9.6 trillion euros of assets and most of Italy's 2.3 trillion-euro debt and probably prefer their assets in euros rather than a new lira, the note said, calling an Italian exit from the euro "not likely."
Italian stocks and bonds slumped last week, pushing yields to the the highest in four years on concern a new election would nudge the two populist parties toward a more stridently anti-euro stance. With the formation of a League/Five Star government and the choice of Giovanni Tria, seen as less euro-skeptic than earlier candidates, as finance minister, markets rebounded and the focus shifted to the new team's spending plans.
In a sign of the changing times, observers last week noted that the once euro-bashing League had ordered a touch-up paint job on its Milan headquarters, whitewashing away the message "Stop Euro" from an outside wall.