Democrats May Avert Shutout in Key California U.S. House Races
(Bloomberg) -- Democrats appeared to have averted a disastrous shutout in several California primary races that are central to the party's strategy for wresting control of the U.S. House of Representatives from Republicans.
In six of the seven Republican-held districts rated as most competitive in the state, Democratic candidates had either secured a ballot position for November's general election or were poised to do so under California's unusual open primary in which the top two vote-getters advance, regardless of party. Final tallies may not be known for days.
Democrats got a clearer outcome in New Jersey, where their favored candidates won in three districts that they hope to flip from Republican control. The party needs a gain of at least 23 seats nationally in order to take power after November's elections, and California and New Jersey offer major opportunities for Democrats to hit that goal.
Voters in Alabama, Iowa, Mississippi, Montana, New Mexico and South Dakota also cast ballots Tuesday, the biggest round of voting in the 2018 primary season covering almost a fifth of all U.S. House districts.
Female candidates made gains in primary races with at least 36 of the 92 women on Tuesday's ballots for the House and Senate being declared winners by early Wednesday. A record number of women, many of them Democrats motivated by anger with President Donald Trump's rhetoric and policies, are running for Congress this year.
But it was California that attracted the most attention because of the large number of potential Democratic pickup opportunities there. The state is home to seven of the 23 House districts nationwide represented by Republicans that were won by Democrat Hillary Clinton in the 2016 presidential election.
An unusual election law complicated the California primary, especially for Democrats. Their enthusiasm about the first electoral test of Trump's presidency has produced an abundance of candidates in multiple districts.
With multiple Democratic candidates competing in some districts -- there were eight in one race -- they risked splitting the vote and sending two Republicans to the November ballot. That had a chance of happening in three Republican-held competitive California districts.
Incumbent Republican Representative Jeff Denham won the top spot in his Central Valley district, but Democrat Josh Harder and Republican Ted Howze were in a fight for second place that was too close to call.
In northern Orange County's 39th district, left open by the retirement of Republican Representative Ed Royce, Republican candidate Young Kim was declared the first-place finisher by AP. With 100 percent of precincts counted, Democrat Gil Cisneros was holding on to second place with 19.4 percent of the vote over Republican Phil Liberatore with 14 percent.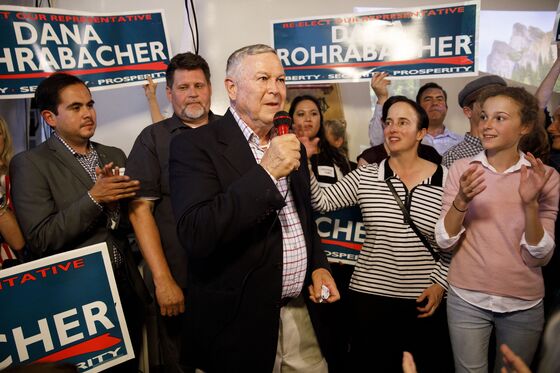 In the 48th District, around coastal Orange County, incumbent Republican Dana Rohrabacher was declared the first-place finisher, while two Democrats, Harley Rouda and Hans Keirstead, were separated by less than 100 votes with all precincts reporting. A Republican, Scott Baugh, was a percentage point behind them.
In the other four competitive districts, Democrats were all but guaranteed a spot on the November ballot. Final results may not be known for days in some cases because California counts any mail ballots postmarked by Tuesday. Additional uncertainty emerged when it was discovered that more than 118,000 voters had their names omitted from rosters at Los Angeles County polling places because of a printing error. Those voters were urged to cast provisional ballots, which may delay definitive results in the districts affected.
In the state's U.S. Senate race, incumbent Dianne Feinstein easily progressed to the November ballot, but it was uncertain early Wednesday who her opponent will be. A tight race for second place pitted Republican James Bradley against progressive Democrat Kevin de León.
Among winning female candidates, Democrats were particularly enthusiastic about the victories of Abby Finkenauer in Iowa's first district, Cindy Axne in Iowa's third district, and Mikie Sherrill in New Jersey's 11th district. All three districts are now held by Republicans and are considered in play in November.
In New Mexico's first district, former state Democratic party chair Debra Haaland won her primary in a district Clinton won by double digits in 2016, putting her on track to become the first Native American woman to serve in Congress. Haaland's general election opponent is another woman, Republican Janice Arnold-Jones. Another GOP woman, Yvette Herrell, will be the Republican on the ballot in November for New Mexico's second district. She, too, will face a woman in November, Democrat Xochitl Torres Small.
In California, Republicans Cristina Osmena and Elizabeth Heng advanced to the general election in the state's 14th and 16th districts and will face incumbent Democrats. The only woman to advance Tuesday to a general election for Senate was Feinstein, who's been in her seat since 1993.
In New Jersey, where the current House delegation includes seven Democrats and five Republicans, a major primary issue was the Republican tax-cut law enacted in December. The legislation faced heavy criticism there for limiting the federal state and local tax deduction. Four of the 12 House Republicans who voted against the law represent New Jersey; two are retiring and one, Leonard Lance, faces a competitive race.
In southern New Jersey's 2nd district being vacated by retiring Republican Frank LoBiondo, the Democratic nomination was won by state Senator Jeff Van Drew, while Republican Seth Grossman won his party's nomination. The race is rated "lean Democratic" by the nonpartisan Cook Political Report.
In the Clinton Township-area 7th district held by five-term Republican Lance -- who easily won renomination -- Tom Malinowski defeated two other Democrats for the chance to take him on in November. The district is rated a toss-up for the general election.
In the Morristown-area 11th district now held by Republican Rodney Frelinghuysen, who is retiring, Mikie Sherrill, a former Navy helicopter pilot and federal prosecutor, won the Democratic nomination and will face Republican Jay Webber, who defeated four primary opponents. The race is rated a toss-up.
Democratic Senator Robert Menendez of New Jersey, who escaped federal corruption charges last year after a jury couldn't reach a verdict and was "severely admonished" by the Senate Ethics Committee for accepting gifts, won his party's nomination.
With 99 percent of the precincts reporting, Menendez had 62.1 percent, while Lisa McCormick, a community website publisher who focused on his ethical issues and reported raising no money for the race through April 15, had 37.9 percent, according to the AP.
The margin of Menendez's victory could be a warning sign for him. He will face Republican Bob Hugin, who was until January the executive chairman of Celgene Corporation.
In Alabama, four-term incumbent Representative Martha Roby of Alabama was forced into a July 17 runoff against fellow Republican Bobby Bright, a former Democrat who represented the district for a single two-year term before losing it in 2010 to Roby.
Roby may have suffered some backlash from Trump supporters. She tweeted during the 2016 presidential campaign that Trump was "unacceptable as a candidate for president" and that she wouldn't vote for him following the disclosure of the "Access Hollywood" tape in which he bragged about grabbing women's private parts.
In Montana, incumbent Democratic Senator Jon Tester was unopposed for renomination and will face State Auditor Matt Rosendale in November.