Conte Takes First Step Onto High Wire of Italy Populist Rule
(Bloomberg) -- Italian Premier Giuseppe Conte's maiden speech to Parliament Tuesday will be the first public test of his ability to navigate between the contrasting demands of the populist leaders who got him appointed.
Civil law professor Conte, 53, was vaulted from faculty battles at Florence University to the head of a potentially fractious coalition when Luigi Di Maio of the Five Star Movement and League Leader Matteo Salvini needed an outsider to reconcile their different priorities.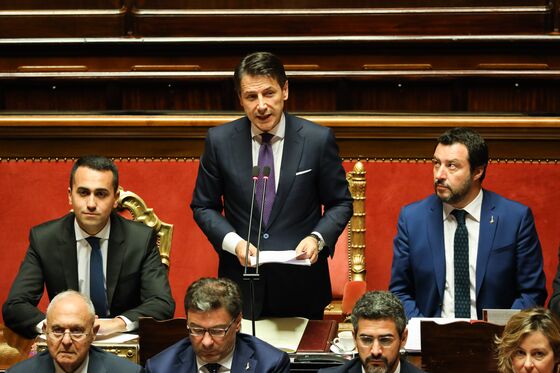 "The demands of Five Star and the League are hard to reconcile, one wants state subsidies for the poor, the other wants a flat tax," said Sergio Fabbrini, director of the school of government at Luiss University in Rome. "But they've got a lot in common: they're nationalists, they want to grab power from Brussels, increase deficit spending and defy EU budget rules."
Conte's speech at 12 noon in the Senate will offer an indication of how he plans to manage that. Senators are due to confirm Conte's appointment in a confidence vote around 7:30 p.m. with the lower house to give its own seal of approval later.
Markets were unruffled before Conte's speech, with the spread between Italian and German 10-year bonds widening seven basis points to 219 basis points and Italy's FTSE MIB benchmark index of shares up 0.6 percent at 10:56 a.m. Milan time.
The Tunisian government summoned the Italian ambassador to Tunis after Salvini said over the weekend that the north African country was exporting its "convicted felons" to Italy. The Tunisian foreign ministry had expressed its "deep astonishment" at Salvini's remarks.
Political novice Conte will have to calibrate his criticisms of the European Union to avoid riling Italy's partners in the bloc and the investors unnerved by the coalition's plans for new spending and tax cuts which flout EU budget rules. The program -- including a two-tiered flat tax and a lower retirement age -- will cost as much as 126 billion euros in its first full year, according to Carlo Cottarelli, a former International Monetary Fund executive who nearly became premier himself.
Industry Minister Di Maio, whose voters are mainly in the depressed south of Italy, and Interior Minister Salvini, whose stronghold is the rich industrial north, both flagged their priorities on the eve of Conte's speech. The government's two political heavyweights are also deputy-premiers, which leaves Conte with little room for maneuver.
Salvini based his election campaign around fears of immigration and made his first trip as minister to Sicily at the weekend. On Monday he said that Italy won't continue handling "hundreds of thousands of 'non-refugees'" on its own.
"Either Europe gives us a hand to make our country secure, or we'll have to choose other ways," Salvini wrote on Twitter.
Di Maio of the anti-establishment Five Star, who also serves as Labor Minister, pledged a "citizen's income" for the poor and jobless, and held his first meeting since taking office with a delegation of delivery service workers. "We want workers to have more stable, more dignified contracts with a minimum hourly wage," he told reporters.
League supporters object to the 'citizen's income' as handouts for lazy southerners -- so much so that when 91 percent of voters backed the coalition program in a rudimentary plebiscite by the League last month, almost all the "No" votes were because of the measure. Salvini's base also suspects Di Maio will prove soft on immigration.
Conte will likely win both confidence votes, though the coalition has only 14 more votes than the opposition in the Senate. He'll then be rubbing shoulders with the likes of Donald Trump, Angela Merkel and Emmanuel Macron at the Group of Seven summit in Canada on Friday and Saturday. His first EU summit is in Brussels on June 28 and 29 where he'll meet another first-timer, Pedro Sanchez of Spain.
Italy's new government won't make it any easier for the EU leaders to reach agreement on the roadmap for further integration due to be discussed at the summit, Holger Schmieding, chief economist at Berenberg, wrote in a note to clients.
"It may take a while for the Italian radicals to find their place in the European reform discussions and for other EU leaders to find out how fast and far the radicals in Rome may back away from their fiery campaign rhetoric," Schmieding said. Eventually, however, they "will have to choose between a U-turn back towards pro-growth reforms and fiscal prudence or a course that could weaken Italy's half-reformed economy further."