Ukrainian Premier Threatens to Quit If Anti-Graft Bill Fails
(Bloomberg) -- Ukrainian Prime Minister Volodymyr Hroisman threatened to resign if lawmakers don't approve a draft law to create an anti-corruption court in line with requests of the International Monetary Fund, part of efforts to unlock the country's $17.5 billion international bailout.
"I will resign, if this fair and independent court isn't created," he told a news conference in Kiev on Monday.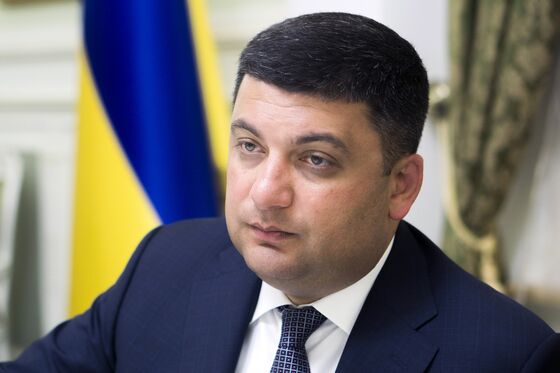 Hroisman's threat comes as the legislation awaits final reading in parliament. If passed, it will need to be signed into law by President Petro Poroshenko. During his two years in office, the premier has repeatedly urged the anti-corruption legislation's approval, tough he rejects to increase utility tariffs for Ukrainian households, also requested by the IMF.
"This is a form of political pressure on lawmakers and other high-ranking officials who resist creating the anti-corruption court," said Volodymyr Fesenko, head of the Penta research institute in the capital city. "The situation is very serious."
Four years after pro-European demonstrators toppled then-President Viktor Yanukovych, the country has failed to make a meaningful dent in corruption, irking Western partners and Ukrainians and freezing access to the bailout. Under the terms of the rescue loan, the anti-corruption court was supposed to have been set up in 2017.
The premier said he will resign even if the law is approved but fails to meet all of IMF's requirements, Vasyl Ryabchuk, his spokesman, said by phone.
The IMF criticized the draft, approved in first reading in March, over the suggested selection of judges. Talks with Ukraine over the issue are ongoing, Goesta Ljungman, head of the lender's representative office in Kiev, said by phone on Monday.