Turkey's Lira Didn't Get the Memo on Rate Hikes
(Bloomberg Opinion) -- Seeing is believing.
After a nearly 20 percent selloff in the Turkish lira this year versus the dollar – inflation in double digits and political interference in the central bank are to blame – it is understandable that the currency is not acting like it's expecting a rate hike.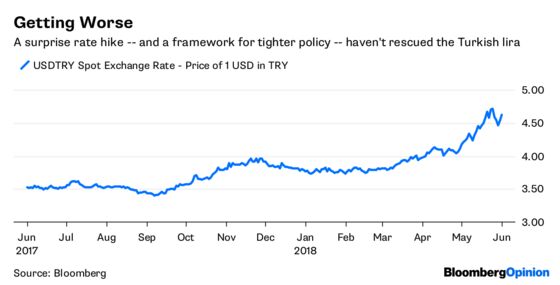 Yet that is exactly what logically should happen at the meeting of Turkey's central bank on June 7. The decider ought to be the publication of May inflation data on Monday. The rate will rise above 12 percent from April's 10.85 percent, according to a Bloomberg News survey of economists. 
The policy makers have made it clear that higher inflation should result in a hike in interest rates, so its decision should be binary.
The central bank published Wednesday a summary of its May 23 emergency meeting, where officials raised rates from 13.5 percent to 16.5 percent to stem the currency's slide. Crucially, this included the sentence: "inflation expectations, pricing behavior and other factors affecting inflation will be closely monitored, and, if needed, further monetary tightening will be delivered." 
This sentence had formed part of the April 25 Monetary Policy Committee statement, but its omission from the May release gave the central bank the appearance of having shifted to a more neutral policy stance. The reinstatement of the line suggests the central bank stands ready to hike if necessary.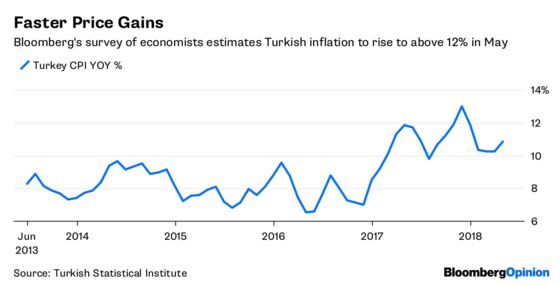 On this basis alone, it's understandable that the lira would strengthen a bit, but fail to soar. Though President Recep Tayyip Erdogan has rolled back outright claims on how officials should operate monetary policy, investors are proving slow to forget his willingness to encroach on central bank independence. 
You'd think they'd be more confident. Erdogan's chief economic adviser, Cemil Ertem, emphasized the green light for a move by saying last week that the central bank has room to raise rates again. But the very fact that the President's adviser needs to back up what the central bank has already said gets to the nub of the problem – with the June 24 presidential election just three weeks away, it's not clear the central bank will have the courage to hike.
And even if it did move, the increase would need to be substantial to change the outlook for the currency. As things stand now, the currency devaluation is sure to import a lot of inflation, and officials are going to have to raise rates a lot higher to get prices under control than if they'd acted sooner. 
Three economists forecast no change in the central bank rate on Thursday from the current 16.5 percent, and two expect a 100 basis-point increase, according to a Bloomberg survey as of Friday. That opinion is this divided shows the lack of belief in official Turkish pronouncements.
Questions about central bank policy aren't the only source of pressure for the lira. On Thursday, Erdogan said:
I invite citizens who hold accounts in foreign currency to convert it to Turkish lira. Let's all teach a lesson to those who try to rattle Turkey's economy and stability through foreign exchange rate.
This isn't a statement that currency outflows need to be controlled, but it's not too far away. And even a hint of this, in an economy with a current account deficit of 5.5 percent of gross domestic product, is scary. It would be economic lunacy with an economy as open as Turkey's, which is so reliant on offshore funding.
And on Friday, Ertem cited rumors of a credit-rating downgrade as a reason for the lira's weakness. After his remarks it turned in the worst performance that day among global currencies.
Upon Erdogan's near-certain reelection he will gain significantly greater powers, and investors are rightly nervous about how long the soothing noises in favor of central bank independence and commitment to open markets will last – it doesn't require the memory of an elephant to recall that this is a man who believes that higher interest rates cause faster inflation, and that it's his duty to control monetary policy.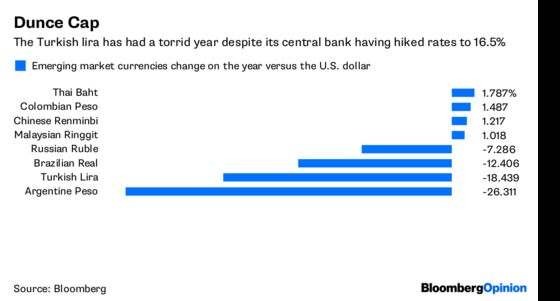 Currency markets will maintain a hefty skepticism for a long while to come. Accordingly, the lira's weakness is going to require much higher rates, along with a substantial change of heart from Erdogan, to reverse.