S. Africa Justice Minister Backs Beleaguered Head Prosecutor
(Bloomberg) -- South African Justice Minister Michael Masutha said he has "full confidence" in chief prosecutor Shaun Abrahams and he had supported his 2016 decision to bring charges against then-finance minister Pravin Gordhan and to then drop the case two weeks later.
Abrahams had been accused by opposition parties and rights groups of delaying decisions on or refusing to prosecute allies of former President Jacob Zuma accused of looting state funds. Last year the High Court ruled that his appointment was invalid because the removal off his predecessor was unlawful. The ruling party forced Zuma to resign in February and replaced him with Cyril Ramaphosa, who fired several cabinet ministers who were seen as being close to Zuma but retained Masutha in his post.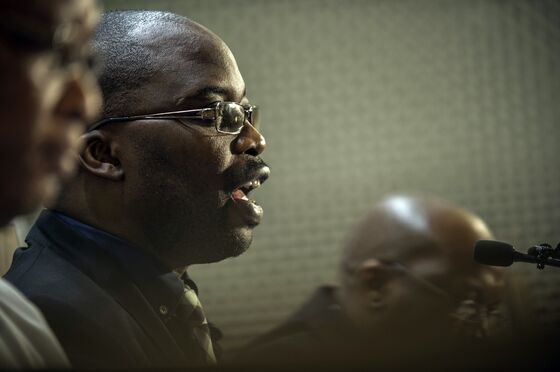 "I have full confidence in Shaun Abrahams," Masutha said in an interview in Bloomberg's Johannesburg office on Monday. "When he was appointed, he had a good 17 years. He was heading the priority crimes unit."
Abrahams accused Gordhan of illegally authorizing a retirement package for a tax agency official. Gordhan, who now oversees state companies, denied any wrongdoing, and the charges were dropped after it was found that a South African Revenue Service legal opinion approved the pension.
"Having studied that report, I was convinced as a lawyer that there was a case to be answered," Masutha said, referring to the investigation into Gordhan. "If I was given the same set of facts today in hindsight, I still would have said indeed there was a case to answer."
The decision by the prosecutions boss to drop the case after Gordhan had explained his actions was also correct, the minister said.
"Based on the facts which were not disputed, at the time of the prosecutorial decision, the state had a reason to consider prosecution," he said. "But based on the subsequent representations, justifying the action or conduct of the persons concerned, it would have been foolhardy for the NPA, knowing what the law says, to nonetheless press on with prosecution and leave it to the court to be the final arbiter."
Masutha said Zuma had never asked him to do "anything untoward" and he'd hadn't found himself in a position where he had to compromise himself or his department. Zuma told him that he appointed Abrahams because he was already working for the National Prosecuting Authority and had the required skills and experience, the minister said.
Zuma will appear in court on June 8, after Abrahams reinstated fraud and corruption charges relating to an arms deal in the late 1990s, following a ruling that the prosecuting office erred in dropping the case nine years ago.