Brexit Is Back With EU Summit Creeping Up and Decisions Pending
Brexit is back this week as lawmakers return from their recess. U.K. Prime Minister Theresa May has some important decisions to make on what kind of future customs relationship she will formally pitch to the European Union ahead of a key summit at the end of the month.
There is a sense that she really can't delay things much longer but then again procrastination has become an art form in May's government with many a deadline pushed back. Here is a roundup of where we stand.
There were two options, and now there might be three
May and her so-called Brexit war cabinet -- comprised of 11 top ministers -- have been deadlocked for a month over what kind of proposal to put forward to avoid a hard border on the island of Ireland. The impasse is unresolved, with the pro-EU ministers favoring one option and Brexit cheerleaders preferring another -- neither will fly with Brussels.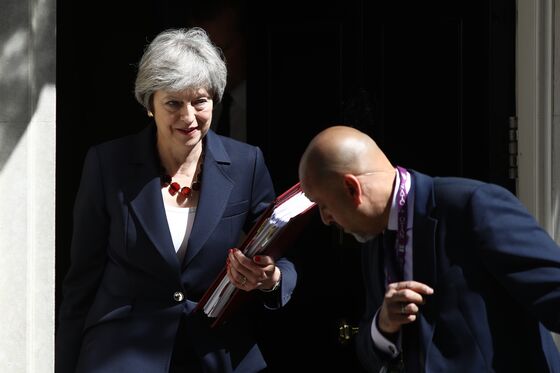 A third option was floated last week, via pro-Brexit tabloid The Sun, and it doesn't appear to have caught on. It has Brexit Secretary David Davis drawing up a 10 mile-wide buffer zone the length of Northern Ireland's 310-mile border with Ireland. Dubbed "Max Fac 2," it seems to draw inspiration from Liechtenstein, which enjoys a system of dual oversight.
That will run afoul of the Northern Irish party propping up May. In fact, Arlene Foster, the leader of the Democratic Unionist Party, was quick to put that brain wave to rest.
"For us, our only red line is that we are not treated any differently to the rest of the United Kingdom, that there are no trade barriers put up between Northern Ireland and our biggest market which, of course, is Great Britain," she told Sky News.
"We will judge all of the propositions that are brought forward, we will judge it against that red line and she's very much aware of that, and I have confidence that she knows that she cannot bring forward anything that will breach that red line or we simply will not be able to support them," she said.
So where does that leave us? Waiting for what is known as a "White Paper" a policy document that promises to set out the government's Brexit position in precise detail when it is published ahead of June's key EU summit.
Speaking of deadlines, the piece of legislation that transfers general principles of EU law into domestic law should also come back to Parliament in coming weeks. It was amended 15 times by the peers in the upper chamber and there is a risk May will get defeated over whether to remain in a customs union.
In the meantime prepare for Armageddon
The Sunday Times reported that civil servants have put together a study that effectively prepares for the end of days should the U.K. and the EU fail to seal a deal. There were three scenarios: mild, severe and one called Armageddon. It warns of food, medicine and fuel shortages and how in the second-worst scenario "the port of Dover will collapse on day one."
"I don't recognize any bit of that at all and as home secretary, as anyone would expect, am deeply involved in no-deal preparations," said Sajid Javid, the newest member of May's Cabinet and who sides with the pro-Brexit camp. "Those outcomes, I don't think any of them would come to pass."
The Plot of the Remainers
May's government has to a large extent been about maintaining that delicate balance of pro- and anti-Brexit voices given that Europe represents the fault line running through her Conservative Party over several generations. That balance has been threatened by the exit of three pro-EU Cabinet ministers -- Damian Green, Amber Rudd and Justine Greening -- in the past six months.
Yet just because they have moved to the so-called backbenches does not mean they are not willing to make themselves heard. The trio met with May last week and made the case to stay as close to the customs union as possible, even if that entails giving it a different name.
As Rudd put it to the Sunday Times: "That's where the vast majority of the party is. We just haven't been as shouty. We wanted to tell the prime minister what lots of MPs are telling us: sensible Brexit please."
Green, once May's deputy and an old friend from her Oxford University days, wrote in the Daily Mail, that he, Rudd and Greening wanted "to assure the prime minister that, far from being isolated in her search for a pragmatic, workable solution, she does in fact have widespread support from her party."
He continued: "That may surprise readers accustomed to the clamor from arch-Brexiteers and die-hard Remainers alike on the Tory benches. But it is time for those two camps to face reality."
All is not well among the Tories
It's been almost two years since the country voted to leave the EU. The clock is ticking down to Brexit day -- March 29, 2019 -- when the U.K. technically calls it a day. But in truth the Tories are as divided as ever on what to do, with speculation on who might replace May failing to abate.
In the latest twist, a hedge-fund manager who backed the Leave campaign has publicly weighed in and told the Observer newspaper that Michael Gove, not May, is best equipped to see Brexit through.
Gove, a key player in the 2016 referendum, was fired as justice minister by May when she became prime minister only to be brought back into government as environment secretary when she botched the 2017 election.
"What is true is that you have a whole lot of people who didn't want this to happen who are in charge of it happening... I would go to Gove," Crispin Odey, a Conservative Party donor and founder of Odey Asset Management, told the newspaper. "She can't make a decision. So there is no leadership."
Even as the country's political establishment continues to be at war with itself on all aspects of Brexit, great and small, there is a sense that the world is moving on.
The crises in Italy and Spain -- which produced two new governments -- were a prescient reminder that the EU has other matters to worry about. Including Donald Trump slapping tariffs on steel and aluminum imports from allies including the U.K. About 7 percent of the country's steel exports -- worth 360 million pounds ($480 million) a year -- go to the U.S.
With that in mind, May flies to Canada for the Group of Seven summit starting June 8 when she will join her EU cohorts in communicating their displeasure. She's not been quite as strong in her rhetoric as some. Part of that has a lot to do with the U.K. really needing the U.S. for a free-trade deal May really wants to show that all the pain of Brexit has been worth it.