U.S. Under Fire For Bending the Rules
(Bloomberg) -- Asia's main security conference this weekend established at least this: That while America's allies like Defense Secretary James Mattis, that's no longer enough.
Mattis sought to rally Asia's security establishment, gathered in Singapore for the annual Shangri-La Dialogue, behind a rules-based international order that's existed in some fashion since World War II. That system, according to the U.S. and others, is under threat from China's militarization of the South China Sea.
Mattis's call for maintaining open seas and a rules-based system that creates a level playing field for large and small countries got widespread support at the event. But the U.S. was also criticized for undermining that order, the result of trade tariffs it has slapped on U.S. allies as well as China.
Those tariffs were "just one manifestation" of the Trump administration's new America First stance, said the host, Singapore Defence Minister Ng Eng Hen. He put the U.S. on a par with China as a threat to rules that have delivered peace and prosperity to Asia.
The U.S. has been the most benign of hegemons, said Ng. But for all Mattis's reassurances, the U.S. was this year presented as  part of the problem, not just the solution.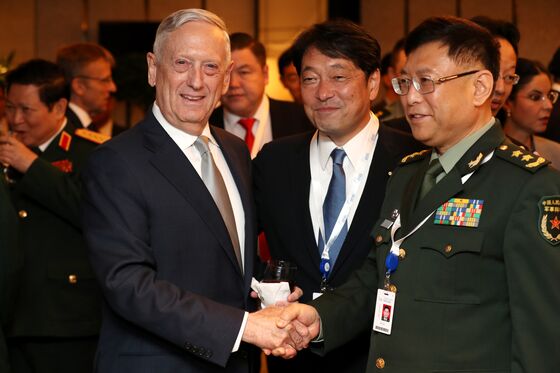 'Bumpy road' to Singapore | Mattis said the U.S. wouldn't agree to sanctions relief until North Korea "demonstrates verifiable and irreversible steps to denuclearization," even as U.S. President Donald Trump shies away from repeating his "maximum pressure" threats. Before a meeting with his Japanese and South Korean counterparts today, Mattis predicted "at best a bumpy road to the negotiations." 
Low-key China | While China's rise was the biggest topic again at Shangri-La, the Chinese themselves were low-key, perhaps as President Xi Jinping seeks to improve ties with some neighbors and avoid picking another fight with the U.S. amid tensions on trade. There was no Chinese speech at the forum and the smallish delegation was led by Lieutenant General He Lei, who technically works for an army-run think tank.
Elephant in the room | Even as the focus was on China's actions in the South China Sea, a potentially bigger China-related hotspot simmered behind the scenes. U.S. lawmakers pledged greater military support for Taiwan at the gathering, where some had arrived after stopovers in Taipei. China sees Taiwan as a renegade province, and any efforts by the U.S. to push independence as a red line.
Quiet on the Quad | For all the hype about a group known as the Quad - the U.S., India, Australia and Japan - as a collective push back to China's expansion, there was almost no mention of it at the forum. Keynote speaker Indian Prime Minister Narendra Modi studiously avoided it, suggesting he remains cautious about being pulled into military tensions with China in areas far from India's own borders.
"We are convening here in this very place, Singapore, just 10 days before a groundbreaking summit involving North Korea will take place. Or won't take place. Or will take place. Or won't. Or we are no longer sure" – French Armed Forces Minister Florence Parly.
A booming business | One corner of the global security establishment not feeling all angst-ridden in the Trump era: Defense contractors. Raytheon International CEO John Harris told Bloomberg's Jason Koutsoukis that a $4.8 billion Polish contract and Trump's push to boost arms exports are lifting demand for its Patriot missile-defense system.