Euro-Area's Slovenia Tries to Avoid Italian Scenario in Vote
(Bloomberg) -- A former prime minister pursuing an anti-refugee platform like the one that propelled nationalists to power in Italy is poised to win Slovenia's elections, though rivals' vows to shun him may thwart his path to government.
Janez Jansa is hoping to form his third cabinet after tumbling out of politics in scandal five years ago. Opposing him are comedian-turned-Mayor Marjan Sarec, who once imitated Jansa as part of his routine, and center-left parties who may cooperate with him to form a new government. With opinion polls showing wildly varying results and more than a fifth of voters undecided before Sunday's ballot, it may lead to a scenario like the one that almost pushed Italy into a do-over election.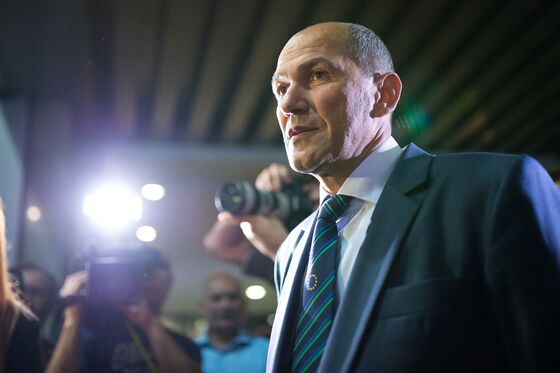 "It seems Jansa will have a first go to try and form a coalition but that won't be easy," Zarko Puhovski, a political analyst and professor at University of Zagreb, said by phone. "Slovenia may go down the Italian scenario."
The election is threatening to upset the middle-of-the-road politics that the former Yugoslav state has pursued since it became the first ex-communist state to join the euro in 2007. Sandwiched between European Union members Italy and Hungary, where euroskeptic parties have taken power, Slovenians will decide whether to stick with traditional ties in the bloc's establishment. Or they'll pick Jansa, an ally of Hungarian Prime Minister Viktor Orban, whose dream of "illiberal democracy" has put him on a collision course with Brussels.
Polling stations in the Adriatic state of 2 million people opened at 7 a.m. and close at 7 p.m., with exit polls expected to follow soon after. Early partial results will follow later Sunday evening.
Slovenia has an almost non-existent population of immigrants. Still, Jansa warns against refugees and terrorism and hails Orban's anti-migrant approach.
"We definitely we need changes, but not for the worse," Miha Logar, 52, a telecommunications company worker, said in Ljubljana. "Immigration isn't an immediate threat, but long-term yes, it's a worry. I don't like that borders are so open."
Jansa's Slovenian Democratic Party led with 24 percent in an opinion survey by the Mediana pollster published by the website 24ur.com on Friday. Sarec's List was second with 11 percent. Three left-of center and centrist parties had 8 percent each, including the Modern Center Party of caretaker Prime Minister Miro Cerar, who resigned in March and triggered early elections.
As many as 10 parties may clear the 4 percent hurdle to make it into parliament. That gives a range of potential options to both Jansa, 59, and Sarec, 40. Either will probably need a minimum of two coalition partners to command a majority in the 90-seat parliament.
"One thing that could lead to surprises is that more than a fifth of voters in polls were yet undecided," Otilia Dhand, a political analyst at Teneo Intelligence, said by phone.
The winner will have some important decisions to make. The Slovenian central bank is without its head as Governor Bostjan Jazbec left in April for another job, weakening the country's voice on the European Central Bank's Governing Council. His replacement will be chosen by the new parliament.
Jansa has also criticized past administrations for dragging their feet in selling state companies, including reneging on a pledge to privatize biggest lender Nova Ljubljanska Banka d.d. after a 2013 bank bailout. The European Commission is now investigating the decision to cancel that sale.
If Jansa prevails, it would mark a return after his last government collapsed in 2013 in a corruption probe. He was convicted of bribery and spent six months in jail in a case the Constitutional Court later overturned. While he denies wrongdoing, other political figures say he's an unacceptable partner in government.
"We are for a forward-looking coalition that won't include Jansa's SDS," Sarec said during a debate this week.