Italy's League Voter Support Soars as Five Star's Lead Narrows
(Bloomberg) -- Matteo Salvini's hand within Italy's newly formed populist government strengthened as polls showed his League party has narrowed the lead of its ally, the Five Star Movement, to less than 2 percentage points.
Support for the anti-immigrant League grew to 28.5 percent, compared with 17.4 percent of votes received in March 4 general elections, according to an Ipsos poll published Saturday in Italian newspaper Corriere della Sera. Luigi Di Maio's anti-establishment Five Star saw its support fall slightly to 30.1 percent from 32.7 percent of ballots on March 4, according to the poll.
League's gains came mainly at the expense of Silvio Berlusconi's center-right Forza Italia party, whose support fell to 9 percent from 14 percent in the elections.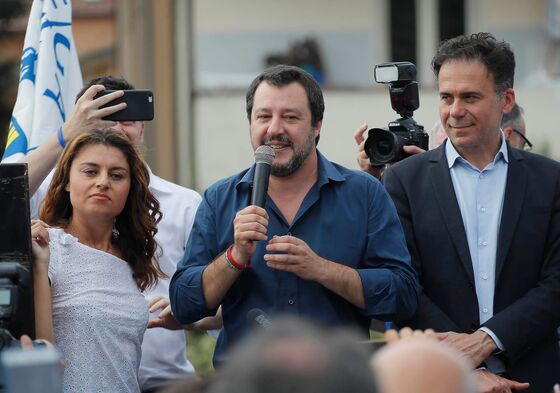 The old order in the euro area's third-biggest economy buckled at March elections as the Democratic Party led by ex-premier Matteo Renzi suffered its worst-ever result, and Berlusconi was eclipsed as leader of the center-right by the more hard-line League. Five Star emerged as the biggest single party. Yet, as the political wrangling on how to form a government became an almost three-month long battle between the populist forces and the presidency, opinion polls began to show a strengthening of the League.
A summary of recent polls compiled by Bloomberg shows the League growing steadily since March, Forza Italia falling sharply, and Five Star declining only slightly, while the center-left Democratic Party remains stable at around 18 percent.
"This could have an impact on the internal balance of the new government," Rosamaria Bitetti, lecturer in public policy at Rome's Luiss University, said in an interview. "The two parties have made expensive promises and with money running low, there may be a struggle over who gets to make his voters happy first."
Salvini and Di Maio reached an accord this month which brought to power a government headed by Giuseppe Conte, 53, a law professor with no political experience. The two populist leaders will be deputy premiers in the new government and have each taken a ministry on themes dear to their electorate's hearts: Salvini the interior ministry, Di Maio a combined labor and economic development ministry.
Salvini has promised voters hefty tax cuts and tougher immigration policies, while Di Maio has pledged guaranteed income for the poor and a lower pension age. Markets took fright last week after viewing the expensive program and witnessing an attempt to appoint euro-skeptic economist Paolo Savona, 81, as finance minister. That post eventually went to 69-year-old Giovanni Tria. The populist program, however, remains with costs that Corriere della Sera estimated at 100 billion euros.