Turkish Banks Set For Worst Week Since July 2016
(Bloomberg) -- Turkish banks' shares fell for a fourth day and are on track for the biggest weekly decline in almost two years as Fitch Ratings is said to take some Turkish lenders to rating watch negative.
Fitch Ratings has prepared a report on Turkish banks, according to two people with direct knowledge of the issue and who asked not to be named because it hasn't been published by Fitch. Report takes some Turkey banks to rating watch negative, according to one of the people. The Borsa Istanbul Banks Index dropped fell 11 percent over the past four days, extending weekly fallout to the largest one since July 2016.
Fitch's report comes at a time investors are weighing risks ahead of this month's election, after the central bank took a series of steps to stabilize the lira in May. "The market is coming to realize that the problems are structural and thus interest rate increases aren't enough to stem the lira decline," Burak Cetinceker, a fund manager at Strateji Portfoy in Istanbul, said by email. "Add that elections factor, whose outcome still cannot be easily guessed; and you get a market that is all in jittery mode."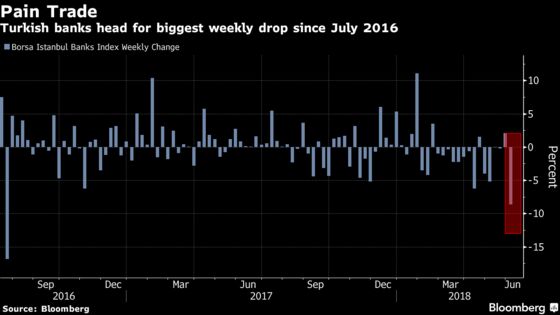 The Borsa Istanbul 100 Index has also lost 4.2 percent this week. "Even in the most liquid names in our market, we are seeing bid-ask sizes that are not normal," Isik Okte, an investment strategist at TEB Investment, BNP Paribas's Turkish unit. "On days like this, technical analysis and support levels; you throw these out the window. The market needs stabilizing bids by long-term investors, otherwise we may see local traders also panic out of positions," Okte said.
The drop in Turkish equities comes after the central bank's measures to fight the country's double-digit inflation amid the looming presidential and general elections. Even after those efforts, the lira is still down 18 percent this year, the second-worst performing emerging market currency in the world. And polls aren't helping clarify the situation: most show that Turkish President Recep Tayyip Erdogan is leading rivals, though still short of the 50 percent needed for a first-round win.
The credibility of the central bank takes time to be restored, and the outcome of the election is not as clear as originally expected, according to Michel Danechi, a fund manager at Vedra Partners in London. "Turkey is fragile with loads of dollar loans, it needs to attract foreign direct flows and in the long-term, needs structural reforms, which is not happening. All of which sends investors to the sidelines until there's clarity after elections."
The corporate sector has to repay more than $330 billion in foreign-currency debt, while banks have already had to restructure 78 billion liras ($17 billion) in loans because of the political and currency turmoil.
Turkish Banks Face Increasing Pile of Debt-Restructuring Demands
The banking index was trading 4 percent as of 4:00 p.m. in Istanbul, while the benchmark equities index was trading 1.7 percent lower. Turkiye Garanti Bankasi AS, the country's biggest bank by market capitalization, led the gains with a loss of 5.6 percent.