Spain's Next Premier Sanchez Begins to Shape Unwieldy Government
(Bloomberg) -- Spanish Prime Minister-elect Pedro Sanchez has begun the task of harnessing the unlikely forces that brought him to power.
The first step was for parliament Speaker Ana Pastor to formally inform King Felipe of the result of the no-confidence vote that ousted Mariano Rajoy. That done, Sanchez can be sworn in as soon as Saturday as the seventh prime minister of Spain's democratic era. After his appointment is confirmed in the official gazette, he can go about forming his government.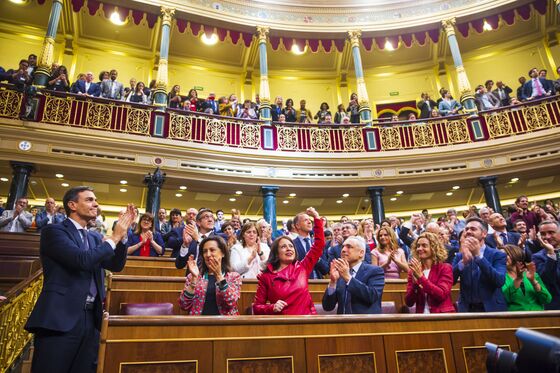 Sanchez seized the opportunity to tap a surge of outrage over a corruption scandal involving Rajoy's People Party to corral Catalan separatists and Basque Nationalists into an unwieldy eight-party coalition that carried his motion. Having pulled off the improbable feat of becoming prime minister, the next challenge -- forming a government with only 84 deputies from his own party in a parliament of 350 -- may be even harder.
"He has made some clever moves for sure but this is only the beginning," said Caroline Gray, a lecturer at Aston University in the U.K. who specializes in nationalist movements. "He has had to promise a lot to get where he is and it remains to be seen how much he can actually deliver."
Sanchez won the confidence motion on Friday by 180 votes to 169 with one abstention. Rajoy, a perennial survivor in Spanish politics, conceded defeat before the vote took place. He shook hands with Sanchez, who was then embraced by his Socialist deputies beaming with delight at a political coup that looked impossible just a few days previously.
"I'm going to govern from a consensus," Sanchez told reporters as he left parliament, pledging to modernize Spain. Pablo Iglesias, the leader of the anti-austerity party Podemos, said his group was willing to serve in Sanchez's administration and urged him to form a government with the forces that had backed him.
Markets welcomed the change of leadership. The benchmark IBEX 35 stock index rose as much as 2.2 percent and yields on Spain's 10-year bonds fell.
"It has been an impressive strategic achievement by Pedro Sanchez," Odon Elorza, a Socialist deputy from the Basque country, told broadcaster TVE, adding that "we never suspected these circumstances could arise."
Yet once the euphoria has passed, the task of governing Spain from such a weak base may start to look a lot more daunting.
To win the support of the five Basque Nationalists, Sanchez pledged to honor Rajoy's budget that was passed in parliament just last week. That's hard to stomach for Podemos and its allies, whose 71 lawmakers in parliament he will need if he's to be able to govern. Rajoy taunted Iglesias in parliament over the fact that by backing Sanchez, he would effectively be endorsing a PP budget he opposed, and would now have to "eat it with potatoes."
Keeping the Catalan separatists on board also looks like a challenge. Sanchez backed Rajoy on his firm line in defense of the Spanish constitution, which doesn't permit regions to break away. Last month he described Joaquim Torra, Catalonia's new separatist president, as the "Spanish Le Pen" because of ideas he described as racist and xenophobic.
Sanchez dialed that back in his speech to parliament on Thursday, saying there was an opportunity for a new understanding on Catalonia although he wanted the region to stay part of Spain.
Jail sentences handed down by a court last week in a long-running corruption scandal involving former PP officials ignited smoldering public outrage over political graft. The public reaction emboldened Sanchez to file the motion against Rajoy, and compelled his new allies to unite behind him.
Rajoy himself seemed to hint at the scale of the task facing Sanchez as he conceded defeat and wished him well. "It has been an honor to leave Spain better than I found it," Rajoy said in his final comments as prime minister. "Hopefully my replacement can say the same thing when the time comes -- I hope so for Spain's sake."