Sanchez Topples Rajoy to Become Prime Minister: Spain Update
(Bloomberg) -- The Socialist-led opposition ousted Spanish Prime Minister Mariano Rajoy with a no-confidence vote Friday.
Rajoy himself conceded defeat in a short speech to parliament before the vote after opposition groups pledged their support to Socialist leader Pedro Sanchez to take over as premier.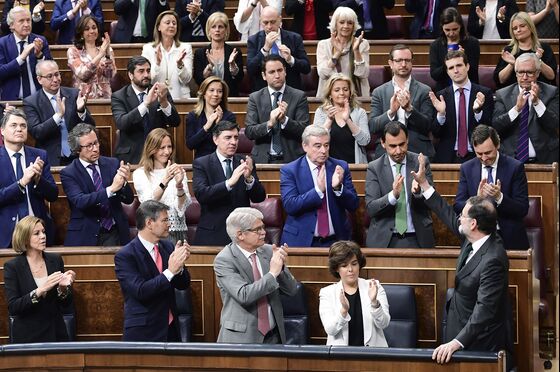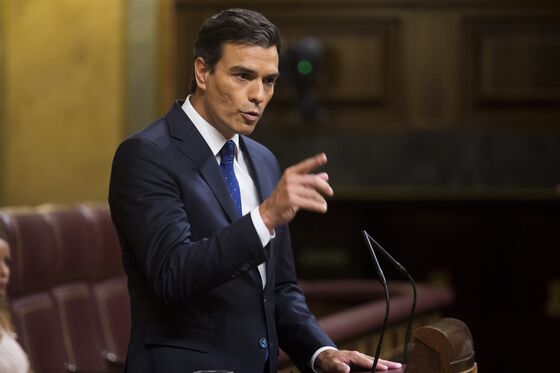 Going into the debate on Thursday, Sanchez had the backing of the anti-establishment group Podemos and some Catalan separatists in what Rajoy has derided as a "Frankenstein coalition." The Basque Nationalists also swung behind the motion, handing Sanchez a majority.
Sanchez Pledges Consensus (1:13 p.m.)
The premier-elect made his first public comments since winning the vote on his way out of the chamber.
"I am fully aware of the critical moment that our country is facing and I will face all the challenges that our country has with humility" Sanchez told reporters. He said he has "a lot of determination to modernize our country, which is what the Socialist Party has always done."
Anger in the Streets (1:03 p.m.)
Noisy crowds were waiting for the outgoing government as ministers left parliament today.
As Deputy Prime Minister Soraya Saenz de Santamaria drove away from the building, they shouted, "Get out! You're corrupt!"
Sanchez's Economic Adviser Vows Stability (12:52 p.m.)
Sanchez's economic adviser Manuel Escudero says the new government will deliver economic stability.
"The Spanish Socialist party is pro-European so we always fulfill our duties vis-a-vis the European Commission," Escudero said in a Bloomberg Television interview. "Strengthening the euro system is important for us, as is some fiscal harmonization."
Scenes in Parliament After a Historic Vote. (11:42 a.m.)
Sanchez nods his head and smiles as the speaker reads out the result. Rajoy crosses the floor to shake Sanchez by the hand. Socialist lawmakers applaud. Sanchez embraces Podemos leader Pablo Iglesias, while Podemos deputies chant "Yes we can."
It's the first time since Spain returned to democracy in 1978 that a prime minister has been ousted by a confidence vote. Sanchez is the first Socialist leader to be directly elected by member and the premier who is not a lawmaker (he resigned his seat in 2016 rather than abstain to let Rajoy take office). He also comes to power after the worst election result in his party's history, as Rajoy reminded him during Thursday's debate.
Spanish Lawmakers Vote Rajoy Out (11:33 a.m.)
The vote goes 180 to 169 against Rajoy with one abstention.
Rajoy Concedes Defeat (10:39 a.m.)
Rajoy finally showed up to deliver a short speech to parliament conceding defeat.
"In the light of what we all know, we can assume the no-confidence motion will go ahead and in consequence Pedro Sanchez will be the new prime minister," he said. "I will accept as a democrat the result of the vote as it is well-known, I can't agree with what has been done."
Rajoy said there was no greater honor than being prime minister of Spain and congratulated Sanchez. Sanchez repaid the compliment, wishing Rajoy all the best and saying he would have his respect as a former premier.
So the new Socialist-led government looks like a done deal.
Rajoy Still a No Show (9:57 a.m.)
Sanchez says it's time to stabilize Spain and address what he termed the country's social emergencies. His new government would be sensitive to gender and environmental issues and seek to build democracy with "exemplary institutions," he said.
Even so, the big story on Friday continues to be Rajoy's whereabouts -- for now the man parliament is preparing to vote against remains absent.
"Spain doesn't deserve a head of the government who isn't here," said Margarita Robles, head of the Socialist parliamentary group.
Meanwhile, it was left to Rafael Hernando, the head of the PP group, to defend his party's record and attempt to land some late punches on the Socialists. "Are you really ready to take on a government with extremist radicals," he asked the Socialists, in reference to its alliance with separatist parties to unseat Rajoy.
Rajoy's night out in Madrid Thursday -- he reportedly spent seven hours in a restaurant near parliament -- continues to enthrall the Spanish media. OKdiario newspaper reported that he and his party had dined on beef and anchovies from his home region of Galicia and cracked open two bottles of whisky.
Rajoy Stays Away (9:08 a.m.)
Rajoy still hasn't showed up in the chamber this morning.
He was absent all afternoon Thursday as the Basques delivered what appeared to be his coup de grace and was later pictured leaving a Madrid restaurant in which he'd been holed up with advisers for seven hours as his political support ebbed away.