Canada Defense Minister Calls Trump Tariff Action `Insulting'
(Bloomberg) -- Canada's top defense official said the Trump administration's decision to levy tariffs against the country's steel on national security grounds was "absurd," but wouldn't impact the neighbors' defense relationship.
"To consider Canada a national security risk to the U.S. is ridiculous and absurd," Defense Minister Harjit Sajjan, a retired army lieutenant colonel, told Bloomberg News Friday on the sidelines of a security forum in Singapore. "I find it quite insulting, especially for somebody like myself who served alongside the U.S."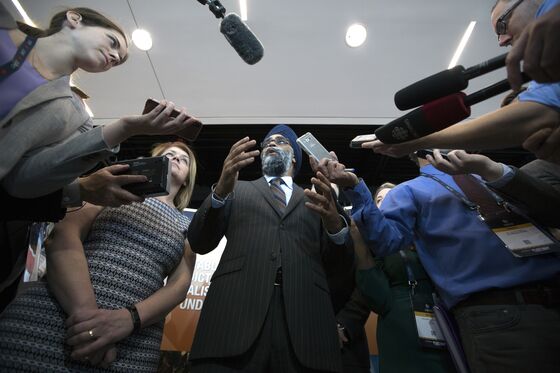 Sajjan said that Canada's security ties with the U.S. have been forged over a century of cooperation, from World War I to the conflict in Afghanistan. He was speaking after Commerce Secretary Wilbur Ross announced the U.S. would levy new duties on metals imports from the European Union, Mexico and Canada on national security grounds, ending temporary exemptions.
Sajjan was in Singapore for the Shangri-La Dialogue, an annual Asian security conference where he may cross paths with U.S. Defense Secretary James Mattis. Trump's willingness to upset traditional U.S. alliances and his abrupt changes of mind on key issues is creating an undercurrent of anxiety at the gathering, which would otherwise be focused on security challenges from North Korea to a rising China.
Trump already raised doubts about the future U.S. commitment to Asia by pulling the U.S. out of a giant Pacific trade pact in one of his first acts as president. The agreement was seen as a hallmark of U.S. engagement with Asia under the prior administration and a buffer against China's rising clout. Then-Defense Secretary Ash Carter in 2015 called it more strategically important than having another aircraft carrier battle group in the Pacific.
On Thursday, Trump also renewed his threat to walk away from the North American Free Trade Agreement, after Canadian Prime Minister Justin Trudeau announced retaliatory tariffs. "The United States will agree to a fair deal, or there will be no deal at all," Trump said.
"We are hopeful that this trade issue can be resolved, because it's not going to benefit any of our nations," Sajjan said. "Our trade is linked into our economy and our economy is very important to our national security, which is something I agree with the Trump administration on."