Trump Escalates Feud With Disney's Bob Iger in Latest CEO Clash
(Bloomberg) -- Donald Trump is escalating his beef with Walt Disney Co. Chief Executive Officer Bob Iger, marking the latest clash between the president and a corporate chieftain.
The president demanded penitence from Iger on Thursday, following through on an attack he lodged the previous day. Trump has argued that Disney's ABC was hypocritical by apologizing for a racist comment made by Roseanne Barr without expressing the same regret about his treatment by the network.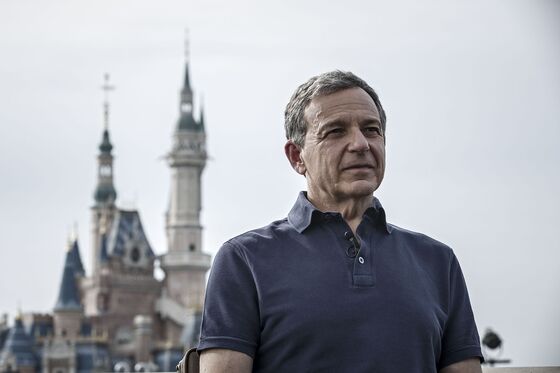 The feud is one of Trump's highest-profile conflicts with a CEO in months, though it's far from the first. He dissolved two business-advisory councils last year amid outcry about Trump response's to a violent rally in Charlottesville, Virginia.
Iger himself stepped down from one of the panels earlier in the year, following the president's decision to exit the Paris accord on climate change.
Trump criticized ABC News in December of 2017 after investigative journalist Brian Ross reported that as a candidate in 2016 he directed Michael Flynn to make contact with Russian officials. Ross was suspended and the network issued a clarification on "ABC World News Tonight." It later issued a full correction and an apology for the report, which rattled stocks when it first hit.
"Iger, where is my call of apology?" Trump said in a Twitter post Thursday. "You and ABC have offended millions of people, and they demand a response. How is Brian Ross doing? He tanked the market with an ABC lie, yet no apology. Double Standard!"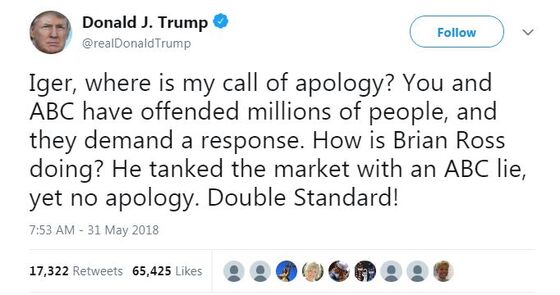 Disney, based in Burbank, California, didn't immediately respond to a request for comment.
Trump initially complained on Wednesday after Iger called former Obama administration adviser Valerie Jarrett to apologize for Barr, who said that Jarrett looked as if the Muslim Brotherhood and "Planet of the Apes" had a baby. Barr also apologized, but ABC canceled her show.