The Frankenstein Coalition's Push to Govern in Spain
(Bloomberg) -- More than five years after Spanish papers first published ledgers that allegedly showed Mariano Rajoy had accepted kickbacks from a secret party slush fund, the prime minister is hanging on by a thread.
Opposition parties are close to pulling together the votes they need to topple him tomorrow. His former aides were convicted of graft last week.
Rajoy, who denies any wrongdoing, has been a fixture in Spanish politics for more than two decades as minister, opposition leader and, since 2011, head of the government.
If he goes, the Socialists will most likely take over, backed by an unlikely alliance of Catalan separatists and the anti-establishment party Podemos — the Frankenstein coalition, Rajoy has called it.

But it may be a short-lived and chaotic administration. Beyond that is the prospect of new elections, with the centrist reformers of Ciudadanos leading in the polls and looking to capitalize. There's no populist revolution brewing here.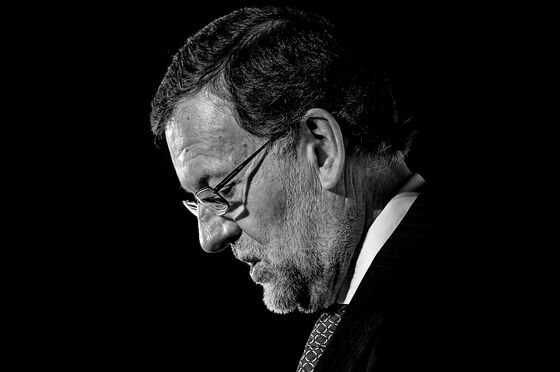 Landmark dinner | Kim Yong Chol, North Korea's former spy chief, met Secretary of State Mike Pompeo for dinner in New York last night, the highest-level talks between the two countries on American soil in 18 years. Negotiators are holding meetings in three countries in an attempt to salvage a summit between President Donald Trump and Kim Jong Un planned for June 12 in Singapore.
Slumping billionaire | Trump's net worth slipped for the second year in a row — to $2.8 billion — as revenue at his namesake Fifth Avenue tower and golf courses fell. The decline is based on figures compiled by the Bloomberg Billionaires Index from lenders, property records, annual reports, market data, as well as a May 16 financial disclosure. 
Eleventh-hour plea | European Union leaders are making a last-ditch attempt to persuade U.S. Commerce Secretary Wilbur Ross to grant the bloc extended relief from Trump's tariffs on steel and aluminum. The meeting in Paris this week coincides with mounting fears of a trade war as Washington also considers levies on foreign cars and duties on $50 billion in Chinese imports.
Riding high | Israeli Prime Minister Benjamin Netanyahu may be the subject of corruption probes, but you wouldn't know it from the adulation he receives. His standing has surged since the Trump administration moved its embassy to Jerusalem and exited the Iran nuclear deal. And while Netanyahu could still go on trial, it would take an especially aggressive attorney general to indict a popular prime minister, says Eran Vigoda-Gadot, a Haifa University professor.
Back from the dead | Ukrainian authorities surprised the world yesterday when a supposedly dead reporter showed up at a news conference. Officials said they staged the murder of a Russian journalist critical of the Kremlin in order to catch people who'd actually been plotting to kill him. The ploy will further sour ties between Ukraine and Russia, post-Soviet allies who fell out following the ouster of Ukraine's pro-Kremlin leader in 2014.
The agenda is stacked at an annual meeting of defense officials that kicks off tomorrow in Singapore. Besides discussions on North Korea, the South China Sea and Taiwan, the keynote address will be delivered by Indian Prime Minister Narendra Modi, whose country has pushed back against China's growing influence.
Italian President Sergio Mattarella is still waiting for Five Star and the League to tell him whether they'll come up with a viable government. A failure by the populist parties to form a government could lead to repeat elections.
And finally … Vogue Arabia dedicated its June issue to the "trailblazing" women of Saudi Arabia by featuring a princess in a red convertible on its cover. The kingdom plans to allow women to drive next month. After a recent crackdown on activists, the issue was immediately lampooned on social media by people who put images of detained women's rights activists over the princess's face.