Rajoy Headed for Exit as Basques Back Socialists: Spain Update
(Bloomberg) -- Prime Minister Mariano Rajoy is heading for defeat in a no-confidence vote in the Spanish Parliament as opposition parties line up against him.
Lawmakers are due to vote on the motion Friday and party leaders speaking in the debate have already pledged Socialist leader Pedro Sanchez the support he needs to replace Rajoy as prime minister. Rajoy has no plans to resign to trigger new elections, said Maria Dolores de Cospedal, the secretary-general of his People's Party.
Sanchez already had the backing of the anti-establishment group Podemos and Esquerra Republicana, one of two Catalan separatist groups. He's added the other Catalan party, PdeCat, and the Basque Nationalists on Thursday afternoon.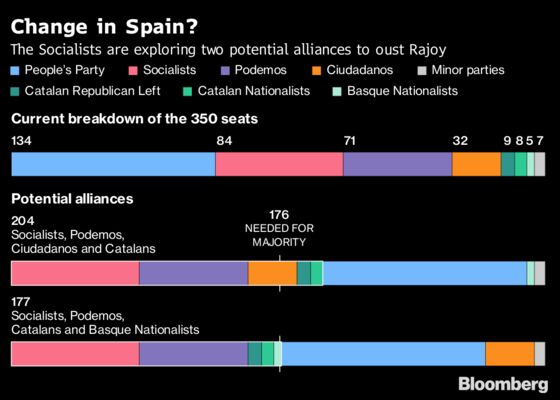 Rajoy Won't Resign (7:15 p.m.)
Cospedal said she wanted to scotch rumors that Rajoy would resign to trigger elections that would stop a government led by Sanchez from taking office.
"Rajoy won't resign because it is not in the best interests of Spain or in the best interests of the People's Party, which in this case go together," Cospedal said at a news conference.
Albert Rivera, the leader of the Ciudadanos party which supported key PP legislation including the budget, told parliament that he agreed with the view of most deputies that Rajoy's government was over. "Corruption has finished off the legislature," he said.
Rivera, whose party is currently leading in opinion polls, urged Rajoy to resign and call elections. Even so, he admitted he didn't know where Rajoy was and hadn't been able to speak to him. "As of now, Ciudadanos has no news of Mr. Rajoy -- not a single phone call, not a single proposal," he said.
Basques Seal Rajoy's Fate (5:46 p.m.)
The Basque Nationalists will support the Socialist motion to oust Rajoy, Aitor Esteban, the head of party's group of deputies, said in a speech to parliament.
"Our negative vote wouldn't mean greater stability," said Esteban. "We believe we serve the Basque people's main demand by voting yes."
Catalan pro-independence party PdeCat will also support the motion, said Carles Campuzano, the party's spokesman in the Congress. He said any attempt by Rajoy to resign before the vote on the motion takes place would be "a democratic fraud."
The mood among PP lawmakers was bleak. Rajoy didn't reappear for the afternoon session, just one of many empty seats in their ranks. Interior Minister Juan Ignacio Zoido told reporters as he left that he was disappointed by the Basques' decision to back the Socialists.
Canaries Coalition Says It Will Abstain (4:44 p.m.)
Another Rajoy ally is backing away. The Canaries Coalition only has one lawmaker, but the prime minister rewarded her with the chair of a parliamentary committee after she voted to let him take office in 2016. This time she says she'll abstain.
Santander's Botin Calls for Stability (4:30 p.m.)
Banco Santander SA Chairman Ana Botin warned of a "certain concern" over the drama in Parliament, Cinco Dias newspaper reported, citing comments she made in Bilbao.
She called on political leaders to reduce uncertainty, saying that foreign investors "have bet on Spain" but "there is starting to be a certain concern about whether trends in Spain may change."
Rajoy Ally Says It's Time for Snap Election (4:01 p.m.)
Navarra's UPN, a traditional ally of Rajoy's PP, called for fresh elections, in a further sign that the outlook is deteriorating for the premier. Rajoy can trigger elections in the short term by resigning before lawmakers vote on the no-confidence motion.
"Immediate elections is the most democratic exit to this situation," said Inigo Alli, one of the two UPN lawmakers in the chamber. "This is not about whether Mr. Rajoy or Mr. Sanchez should be the prime minister."
Earlier in the debate, Rajoy rejected a call from Sanchez for him to resign. Neither Rajoy nor Ciudadanos leader Albert Rivera were present in the chamber during the initial exchanges of the afternoon.
Basques Tell Rajoy They'll Vote Him Out, TVE Says (3:45 p.m.)
The Basque Nationalists have informed both Rajoy's People's Party and the Socialists that they've decided to vote against the prime minister, according to state broadcaster Television Espanola. With the Catalans of PdeCat also expected to support Sanchez, that would be enough to defeat Rajoy. The Basque spokesman in parliament, Aitor Esteban, is next up.
The Basques Keep Spain Waiting (1:54 p.m.)
Aitor Esteban, the leader of the Basque Nationalist group in the Parliament, was the focus of a lot of attention as lawmakers broke for lunch.
"You'll know soon," he told reporters. His party said it won't announce its intentions until Esteban addresses the chamber this afternoon. Rajoy rushed out of the chamber without taking questions.
Sanchez surprised some observers in the Parliament with his call for Rajoy to avoid a vote by resigning. That may suggest that the Socialist leader still isn't sure he has the support he needs to win Friday.
Meanwhile the Basque Nationalists tweeted an image of their leadership meeting in the regional capital of Vitoria to follow the debate. It's looking increasingly likely that Spain's political future will be decided in that conference room.
Rajoy and Sanchez Trade Punches (1.16 p.m.)
Sanchez tells deputies to decide whether Spanish democracy can afford to be "chained to PP corruption" for another two years.
"There is no political, electoral or democratic calculus that justifies you staying one minute more," he told Rajoy, repeating his call for invitation to Rajoy to resign.
Rajoy asked why he should resign if he still has the support of Spanish citizens and parliament (a claim which may well be put to the test at the end of this debate). He ridiculed Sanchez's plans for the economy and question how he planned to govern with his party's 84 deputies.
Has Rajoy Got Anything Left Up His Sleeve? (11:53 a.m.)
Spanish reporter Pablo Montesinos, one of the closest followers of Rajoy's party, says on Twitter that PP officials are threatening to shoot down the Basque regional government's budget if the Basque Nationalists join the Socialists.
You'd expect that there's a fair bit of arm-twisting going on behind the scenes right now. Esteban was typing furiously on his phone after Sanchez's budget pledge and now he's left the chamber. Rajoy is starting to sound a little forlorn.
"I know how these votes work, but you should at least be clear in your minds what you're doing," Rajoy told lawmakers.
Sanchez Promises Budget Payout for Basques (11:23 a.m.)
Making his pitch to lawmakers, Sanchez said he'll retain the 2018 budget drawn up by Rajoy which is still waiting for final approval from the Senate.
That's a key issue for the Basque Nationalists who may decide this vote -- Rajoy had assigned more than 500 million euros ($585 billion) of new spending for their region before his plans unraveled.
Sanchez also called on Rajoy to quit. "Resign now and this motion will end," he said. "What else do you need to recognize that you are a burden for the country and your own party?"
Rajoy Downplays Graft, Points to Record on Jobs (10:25 a.m.)
Rajoy started his defense by accusing the Socialists of exaggerating and misrepresenting the People's Party's track record of corruption. He pointed out that the National Court found the party had a civil liability in last week's Gurtel ruling, but was not found guilty of any crime.
"You should not lie in Parliament," he said. He asked Abalos if he also intended to call a no-confidence vote in Sanchez when the Socialist party's own well-documented corruption cases are concluded. "There is corruption everywhere as you well know," he said.
Rajoy also highlighted his record on economic growth and creating jobs. "When you open your mouths, the risk premium jumps," he told the Socialists.
Case Against Rajoy Rests on Graft of Former Aides (9:30 a.m.)
Socialist lawmaker Jose Luis Abalos opened the debate in parliament with verdict last week in the so-called Gurtel case. The National Court convicted former aides from Rajoy's People's Party of running a corruption racket while Rajoy was party leader.
"The PP was Gurtel and Gurtel was the PP," Abalos said. "You created a perfect cycle of corruption."
He accused Rajoy of dodging the oversight of Parliament and manipulating the courts to avoid political responsibility for the crimes of the people who once worked closely within him in PP headquarters.
"You have taken the dignity of the office you hold to unsuspected depths," he said.
Spain's Economy Looks Strong (9:05 a.m.)
Prior to the political drama, Spain's economy was on a firm footing. Final first-quarter figures from the statistics office confirmed an expansion of 0.7 percent. Growth is forecast to be 2.7 percent this year. While that would be down from 3.1 percent in 2017, it would still beat the euro-area average.
Rajoy Mulls Resignation, according to El Pais (8:56 a.m.)
Rajoy is waiting to see whether the Basque Nationalists side with the Socialists before deciding whether to resign or dig in, El Pais reports. The Basques moved closer to supporting the no-confidence motion after seeing it has the support of Catalan separatist parties, the newspaper said. The Catalans have asked Sanchez to tone down his criticism of their Regional President Joaquim Torra in his speech on Thursday, El Pais reports. Sanchez previously called him a racist.
Both Rajoy and Sanchez are willing to call elections in the fall, according to website Vozpopuli. Sanchez would be willing to call elections for October.
Possible Curveballs (7:59 a.m.)
With so much riding on Friday's vote, and the backroom arm-twisting leading up to it, there's lots of potential for curveballs. If Rajoy judges the vote is lost, he can still stop Sanchez from taking office by resigning. Such a move would lead to snap elections rather than a straight switch to a Socialist-led government and buy time for his party to regroup.
Also watch out for Ciudadanos. The centrists are the fourth biggest party in parliament and have refused to back Sanchez so far. They are demanding fresh elections instead of a parliamentary coup and while it looks like Sanchez has outmaneuvered Ciudadanos leader Albert Rivera at this stage, Rivera could still pull a rabbit out of the hat. With a growing lead in opinion polls, Rivera would likely be the biggest winner of a snap election.