Italy Populists Surge to Power in New Phase of European Risk
(Bloomberg) -- Italy's populist Five Star Movement and League parties swept to power in a spectacular reversal of political fortunes that brings an end to three months of deadlock and opens the way to a period of friction with Europe.
Giuseppe Conte, 53, a law professor with no political experience, was sworn in as prime minister along with his cabinet on Friday by President Sergio Mattarella. The government will face a vote of confidence in both houses of parliament next week.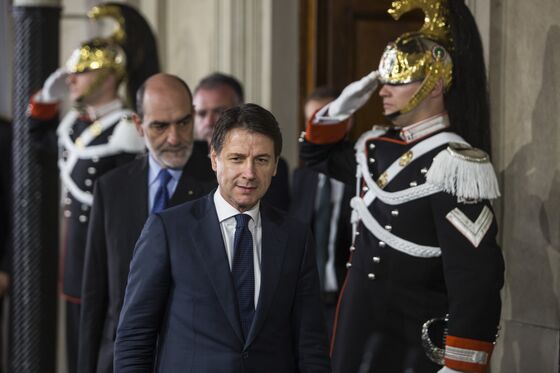 The deal between the populist parties ends weeks of Byzantine wheeler-dealing during which Five Star's Luigi Di Maio and the anti-immigrant League's Matteo Salvini pulled the plug on a first attempt to form a government after the president vetoed their pick of a euroskeptic finance minister. With global markets in freefall at the prospect of a possible resurgence of the euro crisis, the populist leaders held on and emerged victorious as their revised cabinet was accepted late on Thursday.
Di Maio and Salvini were sworn in as deputy premiers, with economist Giovanni Tria, 69, as finance minister. Euroskeptic economist Paolo Savona, 81, who was rejected as finance minister on Sunday, will be responsible for European affairs. Savona has repeatedly urged Italy to prepare a plan for dropping the common currency.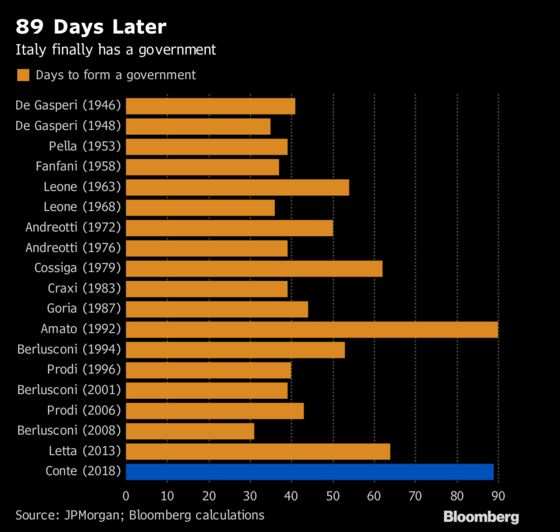 Markets, already wary of the populist program, took fright this week at the prospect of an incoming administration intent on challenging Europe. The populist coalition has a program that pledges a spending spree and tax cuts, a guaranteed "citizen's income" for the poor, scrapping a pension reform which raised the retirement age, and challenging European Union rules.
"Convincing financial markets that these proposals will be 'mainstreamed' at some point will be an uphill struggle for the new executive," LC Macro Advisors Ltd. founder Lorenzo Codogno, a former chief economist at the Italian Treasury, wrote in a note to clients. "The risk of a Syriza-like trajectory should not be underestimated," he said, referring to the radical left party which brought Greece close to being forced out of the euro.
The old order in the euro area's third-biggest economy buckled at the March elections as the center-left Democratic Party of ex-premier Matteo Renzi suffered its worst-ever result, and Silvio Berlusconi, 81, was eclipsed as leader of the center-right by the more hard-line League. Five Star became the single biggest party.
Italian bonds gained on Thursday after the news of the Five Star-League deal, with the 10-year yield falling about 18 basis points to 2.7 percent.
"While short-term reaction may be of relief since the worst case scenario of new elections has been arguably voided, the legitimate debate on sustainability of public accounts should start, maintaining credit spreads above pre-political crisis levels," according to Javier Suarez, an analyst at Mediobanca SpA in Milan.
Di Maio will also serve as labor and economic development minister, and Salvini as interior minister. The foreign minister will be pro-European Enzo Moavero Milanesi, a former minister for European affairs. Finance Minister Tria was until now head of the Economy faculty at Rome's Tor Vergata University. He has called for a debate on the euro in both Italy and in the rest of Europe.
"People who call for unconditionally leaving the euro as a cure for all ills aren't right, but neither is the European Central Bank President Mario Draghi when he says 'the euro is irreversible,' if he doesn't clarify the conditions and the timing for the reforms which are necessary for its survival," Tria wrote in a March 2017 article in newspaper Il Sole 24 Ore.