Credit Investors See Big Buying Opportunity in Italy Carnage
(Bloomberg) -- The Italian political shakeup is proving too dangerous to pass up for some investors.
After struggling to find openings in a market where prices have been driven relentlessly up, euro credit investors are now piling in after this week's sell-off pushed yields to the highest level in more than a year. Bank of America Merrill Lynch and JP Morgan Asset Management say valuations look attractive.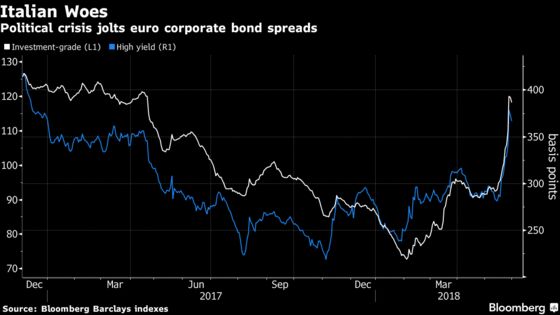 The risks posed by an anti-establishment government in Italy may have risen, but the fundamental strong points that drew investors to euro credit markets in the first place haven't gone away. Default rates are near historic lows, companies have never had it this easy to pay interest on their debt and the euro area economy looks set for a second year of growth above 2 percent.
"When we look at European high yield, we like it a lot," said Nick Gartside, chief investment officer for fixed income at JPMorgan AM, who helps manage about $500 billion. "We see an economy growing above trend with low default rates, and we think that the spread can narrow."
Spreads on investment-grade euro corporate bonds narrowed from their widest level in 13 months as fears faded about the prospect of a snap election in Italy that could have effectively constituted a referendum on whether the country stays in the euro area. The premium on high-yield debt dropped back from the highest since the end of 2016.
Italian debt makes up 5.1 percent of of the Bloomberg Barclay's euro investment grade index and 19 percent of the high-yield equivalent.
The sell-off pushed spreads on European corporate debt above those in the U.S. for the first time since 2013. Nevertheless, European corporates are in much better shape than their American counterparts, according to Bank of America strategist Souheir Asba.
"Companies are more prudent with their cash in Europe and are also less levered, as a consequence of having gone through two consecutive crises," Asba said. "Valuations in euro credit are pretty attractive."