First Post-Mugabe Election in Zimbabwe Scheduled for July 30
(Bloomberg) -- Zimbabwe set its first election of the post-Robert Mugabe era for July 30 in what should be a straight fight between President Emmerson Mnangagwa's ruling party and the opposition Movement for Democratic Change.
The election comes after Mugabe, who ruled the southern African nation for almost 40 years, was forced to step down as president in November. It will feature European Union monitors for the first time since he expelled Western observers in 2002 after they alleged his Zimbabwe African National Union-Patriotic Front was guilty of human rights abuses. Zanu-PF denied the charges and accused the Western nations of interfering in Zimbabwe's internal affairs.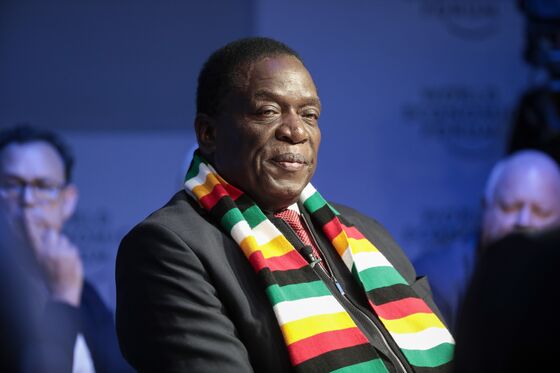 Mnangagwa, 75, who came to power with assistance from the army after Mugabe's resignation, will stand as Zanu-PF's presidential candidate. He announced the election date Wednesday in a government proclamation. His main opponent, Nelson Chamisa, 40, heads the Movement for Democratic Change party following the death of former MDC leader Morgan Tsvangirai in February.
The Constitutional Court ruled on Wednesday against allowing Zimbabweans living abroad to have the right to vote for the first time, as opposition leaders had demanded.
"Naturally we're very disappointed because we really did believe that there's now a constitutional right to vote for all Zimbabweans, whether they're based in Zimbabwe or they're voting from abroad," said Belinda Chinowawa, a lawyer for the Harare-based Zimbabwe Lawyers for Human Rights, which brought the case.
An estimated three million Zimbabweans, about a fifth of the total population, live outside the country. Many escaped an economy that's halved in size since 2000 while others sought exile following human rights violations during the Mugabe era, according to the United Nations.
Foreign Minister Sibusiso Moyo told Bloomberg TV on April 17 that the government was working to open the vote to citizens living outside the country, but backtracked a week later, saying there wasn't time to organize the logistics.
The EU and Zimbabwe signed a memorandum of understanding on Monday to allow European observers to scrutinize the vote. They "will also monitor electoral complaints that may be lodged after the elections," the EU's ambassador, Philippe Van Damme, said in a statement.