Trump Laments Picking Sessions as GOP Ally Undercuts Spy Claim
(Bloomberg) -- President Donald Trump said he wishes he'd never made Jeff Sessions his attorney general because the former Republican senator recused himself from the probe of Russian meddling in the 2016 election.
Trump endorsed remarks Wednesday by House Oversight Chairman Trey Gowdy about Sessions even as he ignored Gowdy's strong dismissal of the president's claim that the FBI planted a "spy" in his campaign.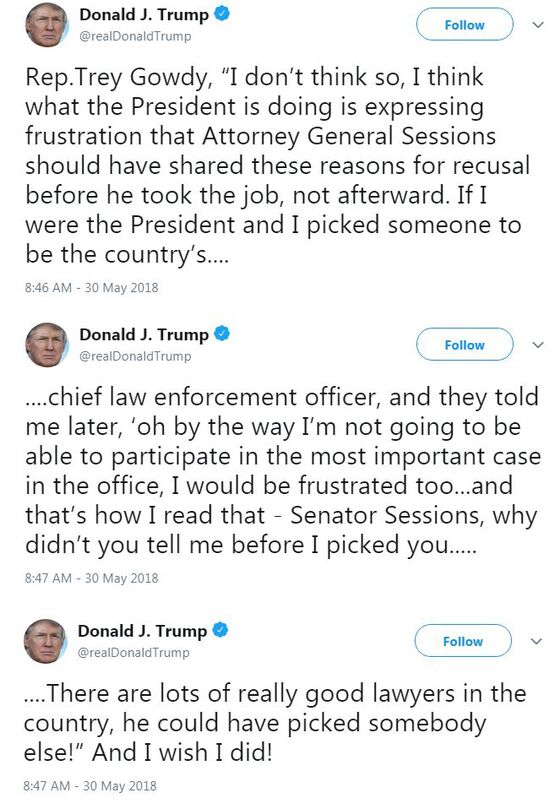 In a series of tweets on Wednesday, Trump approvingly quoted Gowdy's television appearance criticizing Sessions for removing himself from oversight of the probe that's now being run by Special Counsel Robert Mueller. He said Trump had many other options for the nation's top law enforcement officer.
"There are lots of really good lawyers in the country, he could have picked somebody else!" Gowdy said. Citing the lawmaker's comments in a Twitter posting, Trump added: "And I wish I did!"
In the same TV interview, however, Gowdy, a former federal prosecutor, defended the Justice Department and FBI.
"When the FBI comes into contact with information about what a foreign government may be doing in our election cycle, I think they have an obligation to run it out," Gowdy, a member of the House Intelligence panel, said on "CBS This Morning." "I think the FBI, if they were at the table this morning, would tell you Russia was the target" and "the fact that two people loosely connected with the Trump campaign may have been involved doesn't diminish that Russia was the target and not the campaign."
Asked why Trump persists with his "Spygate" claim, Gowdy -- who's not running for re-election for his South Carolina seat and has made a point of keeping his distance from the White House on the Russia probe -- said, "I've never met or talked to the president."
White House Press Secretary Sarah Huckabee Sanders said Wednesday that Gowdy's assessment hasn't swayed Trump in his belief that a spy was planted in his campaign. "Clearly, there's still cause for concern that needs to be looked at," she said.
On Sessions, Trump has expressed similar sentiments before, but the attorney general stepped down. A political firestorm would erupt if Trump fired Sessions or Deputy Attorney General Rod Rosenstein, who's supervising the Russia probe, in an effort to remove or rein in Mueller.
The New York Times reported Tuesday that Trump asked Sessions in March 2017 to reverse the decision to recuse himself and that Mueller is investigating the request as part of his inquiry into whether Trump sought to obstruct the Russia probe.
Justice Department spokeswoman Sarah Isgur Flores declined to comment on Trump's tweet Wednesday, saying the department doesn't discuss presidential communications.
Trump's attack on Sessions is only the latest flare-up in tensions between them. During his confirmation hearing in January 2017, Sessions said he saw no reason why he would need to recuse himself despite his role in the 2016 campaign as a leading Trump supporter and adviser.
Sessions reversed course and announced in March 2017 that he would recuse himself from any investigation related to Trump's campaign for president after public revelations that he had contacts in 2016 with Russia's ambassador to the U.S. that he'd failed to disclose during the confirmation process. He said he made the recusal decision after several weeks of consultations with senior career officials in the Justice Department.
Sessions has never regained Trump's trust and confidence, even though he may be carrying out the president's agenda more effectively than any other Cabinet member by cracking down on illegal immigration, seeking tougher penalties on criminals and reversing an array of Justice Department policies instituted by former President Barack Obama.
Rosenstein has also weathered multiple attacks on his reputation and the integrity of Mueller's investigation. In the latest flare-up, Gowdy and other House Republicans demanded to see classified information about the origin of the investigation into Trump's campaign, including details about the FBI's use of an informant.
Rosenstein agreed to brief lawmakers last week after being summoned to the White House by Trump. Critics assailed Rosenstein for briefing lawmakers on May 24, saying he appeared to be caving to political pressure and giving Trump surrogates ammunition they could use to undercut Mueller's investigation.
Rosenstein's gambit appears to have worked, though, at least in the short run. It divided Trump from Republicans like Gowdy who came away from the briefing with the understanding that the FBI acted lawfully and was trying to better understand Russia's effort to interfere in the U.S. election.