Trudeau Rejects 'Race to the Bottom' With U.S.
Canadian Prime Minister Justin Trudeau may be biting his tongue when it comes to his personal views on Donald Trump — but he's not holding back about his U.S. counterpart's signature tax cuts.

His message? He's not Trump.

"We have to ask the question whether the tax cuts that they've brought in in the United States are sustainable," Trudeau told Bloomberg's Stephanie Flanders in an exclusive interview yesterday in which he outlined his economic vision.

In pursuit of his goal of building an economy that can thrive over time, Trudeau said he's willing to accept losing a short-term edge to the U.S.

"We're not engaging in a race to the bottom," he said, rejecting what he described as a "ruthless" economic approach in the U.S. propped up by deficit spending.

Instead, Trudeau championed investments in education and healthcare, targeted immigration and responsible borrowing as ways to quell populist unrest.

It's an economic philosophy he's set to advance when he hosts the Group of Seven leaders' summit next week in Quebec, and one that raises fresh questions about how directly he will take on his more powerful southern neighbor.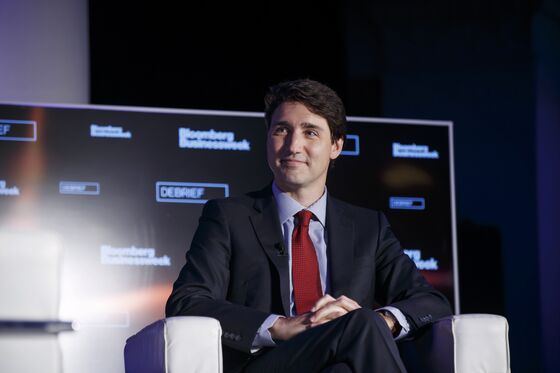 Back on? | The White House announced final preparations for Trump's planned June 12 summit with North Korean leader Kim Jong Un, signaling confidence that the on-again, off-again meeting will proceed. Pyongyang's former spy chief is traveling to New York to meet with Secretary of State Mike Pompeo later this week, while Japanese Prime Minister Shinzo Abe plans to visit Trump in Washington on June 7. Click here for the latest.

Tariff troubles | European Union Trade Commissioner Cecilia Malmstrom gave her clearest signal yet that the EU will come up short in its bid for a permanent, unconditional waiver from U.S. metal tariffs. Speaking just days before the bloc's temporary exemption expires, Malmstrom raised the possibility of a "soft cap, under which further exports would be possible but under duties."

Roman power play | League leader Matteo Salvini, the rising power in Italian populism, rebuffed efforts to revive his coalition with the Five Star Movement and targeted fresh elections in the fall to consolidate his position. The prospect of a standstill helped bond markets recover after yesterday's rout on concerns Italy's euro membership might be questioned.

A change in Spain? | The biggest opposition party is negotiating on two fronts for the votes it needs to oust Prime Minister Mariano Rajoy in a no-confidence vote Friday, Esteban Duarte reports. The party has made inroads in the past 24 hours, but the result is likely to remain in the balance until the last moment as six different opposition groups jostle for advantage ahead of a potential election.

Media critic silenced | A Russian journalist critical of President Vladimir Putin was shot dead at his home in Kiev, the third assassination in two years of a Kremlin foe in Ukraine's capital. Arkady Babchenko rose to fame as a war correspondent. He covered the conflict in Ukraine and criticized the 2014 downing of a Malaysia Airlines flight that killed 298 people — a tragedy that investigators from Australia and the Netherlands last week blamed on Moscow.
The Trump administration is set to impose new limits on Chinese visa applications, citing the need to protect American intellectual property, in the latest sign of continued trade tensions with Beijing.
And finally ... Canceling "Roseanne" after just two months disrupts ABC's plan to turn the network around by reaching out to conservative viewers. It dropped the show — the most-watched new program on television — after star Roseanne Barr described former Obama administration adviser Valerie Jarrett as the offspring of the Muslim Brotherhood and "Planet of the Apes." Barr apologized, but by then her remark had gone viral.