Scottish Tory Chief Davidson Warns May on NHS Funding, Migration
(Bloomberg) -- Scottish Conservative leader Ruth Davidson, tipped as a potential successor to U.K. Prime Minister Theresa May, called for "substantial extra funding" for the National Health Service in place of any future tax cuts.
The state-funded health service, which is approaching its 70th anniversary, is "reaching a tipping point" as costs rise and it deals with an ageing population, Davidson said late Tuesday in Glasgow. There should be no tax cuts "beyond those already promised," she said, putting her at odds with ruling Tory party members who want any budget surplus to be translated into tax reductions.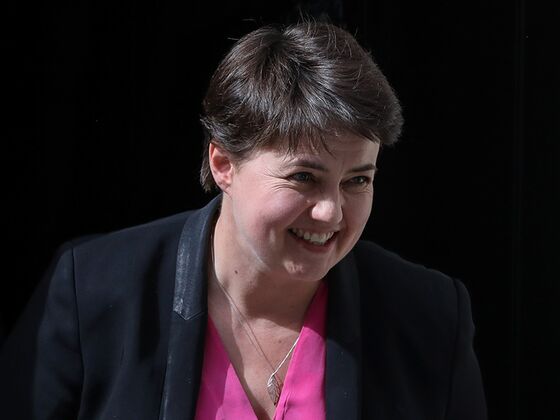 Davidson, who is expecting her first child with fiancee Jen Wilson, told of how the NHS cared for her after she was hit by a truck as a five-year-old and when she later broke her back.
Scottish National Party leader and Scotland's First Minister Nicola Sturgeon accused Davidson of "empty words" on NHS funding. "And yet when @scotgov made progressive tax changes to help deliver more money for the NHS, the Tories opposed tooth and nail. Their actions speak louder than their empty words," she said on Twitter.
Davidson also urged May to review her longstanding pledge to reduce net migration to the U.K. to under 100,000 a year, characterizing it as an "immigration figure devised nearly a decade ago, which has never been met and does not fit the requirements of the country."
"Setting an immigration target reduced to the tens of thousands is one thing when unemployment is running over eight percent," Davidson said. "Refusing to review it when the country nears full employment and sectors are reporting skills shortages is quite another."
Davidson, who voted for the U.K. to remain in the European Union in the 2016 referendum, last week joined leading Brexiter Michael Gove at the debut of a new Tory think tank meant to broaden the party's appeal among younger voters. There's been growing media speculation that the pair are working on a strategy that would see Davidson lead the Conservatives into the next scheduled election in 2022.