Romanian Court Tells President to Fire Anti-Graft Crusader
(Bloomberg) -- Romania's highest court backed the government's latest attempt to fire the country's chief anti-corruption prosecutor, compelling President Klaus Iohannis to remove someone who's won plaudits for sending hundreds of crooked officials to prison.
The constitutional court ruled Wednesday that Iohannis overstepped his authority in refusing to fire Laura Codruta Kovesi at the request of Justice Minister Tudorel Toader, according to an emailed statement. Previous efforts by the government to weaken the barriers to corruption have triggered mass protests and criticism from the European Union and Iohannis.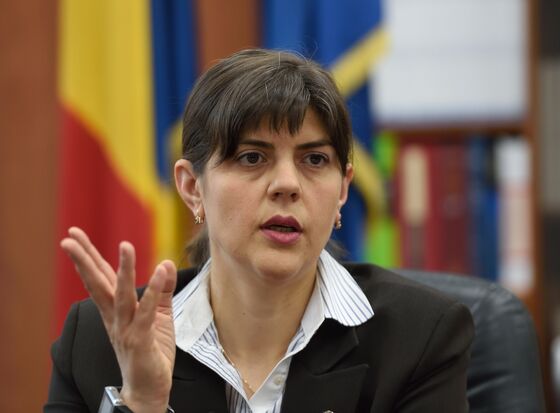 The president "must issue a decree to remove the chief anti-corruption prosecutor," the court said. Iohannis said earlier Wednesday that he'll wait to examine the court's decision before acting "accordingly."
The ruling threatens to further strain ties between Iohannis and the government, who've fallen out over issues from judicial reform to foreign policy and state finances. It also risks renewed public unrest after the biggest street demonstrations since communism halted efforts by the government last year to soften punishment for officials who abuse their powers.
About 4,000 people protested against the court's decision in Bucharest and a few hundred in other major cities, shouting "thieves, thieves" and "we want justice, not corruption," the Digi24 television channel reported. B1 TV cited the chief justice of the constitutional court as saying that a detailed explanation of the ruling will be published in 10 days.
In an escalation of a separate conflict, Iohannis complained Wednesday about plans to revamp the pension system. After months of conflicting statements from officials, Labor Minister Olguta Vasilescu said paying into the system's so-called second pillar would become optional.
That would allow Romanians to transfer their savings into the state-managed first pillar, narrowing the budget deficit. The move is similar to tactics used by Hungary and Poland to create fiscal space for lavish social spending. The EU has warned Romania that its tax cuts and hikes to public salaries risk pushing the budget shortfall beyond the bloc's limit.
"This is very bad news and it's probably the beginning of the end for the second pillar, as they will try to find new ways afterwards to get people to switch to the state pillar," Iohannis told reporters in Bucharest on Wednesday. "We've seen our neighbors, so we know how this ends."
Private pension funds and asset managers oppose changes to the current system. Forecasts point to a severe population decline through 2050, raising concerns about the sustainability of the state system.
The Bucharest stock exchange's main BET index fell 2.2 percent to 8,018.66, the lowest since February. Private pension funds own stock worth about 1.9 billion euros ($2.2 billion), or about 20 percent of traded shares.