Rifts Emerge Between Italy's Populists in Push for Power
(Bloomberg) -- Italy's League leader Matteo Salvini dismissed an offer from the anti-establishment Five Star Movement to revive efforts to form a populist government, calling instead for early elections without revealing whom he might form an alliance with.
"Di Maio's overture? We're not at the market and it's also a question of dignity," Salvini of the anti-immigrant League told a rally in Pisa, Tuscany on Wednesday. "We tried to form a government with the center-right and then with Five Star and we were always told 'no'. "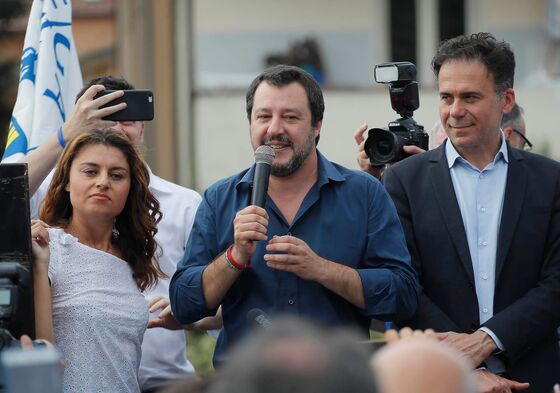 Salvini said he hoped for elections "as soon as possible but not at the end of July because there are the sacred holidays of Italians and seasonal workers." He did not indicate whom the League should govern with, saying: "Ask Mattarella" -- a reference to President Sergio Mattarella, who wrecked populist hopes at the weekend by vetoing a euroskeptic economist as finance minister.
Signs of a rift between the populist parties may reflect their differing fortunes after the March 4 inconclusive election and their subsequent failure to enter government. While Five Star support is down, the League has surged into second place in polls, strengthening Salvini's hand in any subsequent coalition negotiations.
Global markets regained some composure on Wednesday as panic over the Italian political crisis subsided and encouraging economic data helped steady nerves in Europe. Italian bonds rebounded, with the 10-year yield falling as last ditch efforts to form a populist coalition appeared to falter.
Salvini's League has benefited the most from the political bargaining since the March ballot, polling 27.5 percent compared with 17.4 percent in the vote, according to a May 23-28 SWG poll. Support for Five Star was 29.5 percent, compared with 32.7 percent. The strongest pro-European, establishment force, the Democratic Party, was little changed at 19.4 percent.
Five Star leader Luigi Di Maio swung between government and election mode within less than 24 hours. Di Maio told a rally in Naples on Tuesday night he's ready to cooperate with Mattarella to solve the political crisis. Then on Wednesday he called for either a government led by law professor Giuseppe Conte, the previous populists' candidate, or immediate elections -- before saying he would not make an electoral alliance with the League, as Five Star does not make such deals.
The head of state met with premier-designate Carlo Cottarelli, 63, a former International Monetary Fund executive, on Wednesday morning for informal talks, but no list of ministers was unveiled after the encounter. Cottarelli is awaiting developments because the possibility of a political government has emerged, according to a statement cited by newswire Ansa.
"This is my appeal: let Sergio Mattarella give us the election date and Italians will render justice on what has happened," Salvini told the crowd in Pisa. "We'll go to the vote with those who back our program because Italy cannot be the country which continues to say just 'Yes sir' to Europe."
Salvini wrote a joint government program with Five Star, but he could return to an alliance with the center-right including ex-premier Silvio Berlusconi's Forza Italia party, a force which is more pro-European.
"Just who Salvini goes into the next elections with is vital," said Giovanni Orsina, professor of government at Luiss University in Rome. "If he goes with Forza Italia, there'll be an attempt to reconcile the establishment and the protest vote. If he goes with Five Star, it will be a head-to-head conflict with the establishment."