Merkel Makes Big Sell for Euro as `Best Guarantee' for Peace
(Bloomberg) -- Angela Merkel made a broad plea to hold the euro area together, calling the common currency Europe's "best guarantee" to preserve the peace it's held since World War II.
As Italy's political crisis rattles global markets and throws open for the second time in a decade the question of whether the 19-member currency can survive, the German chancellor used a "citizens' dialogue" Wednesday in Portugal to make a fundamental case for the euro.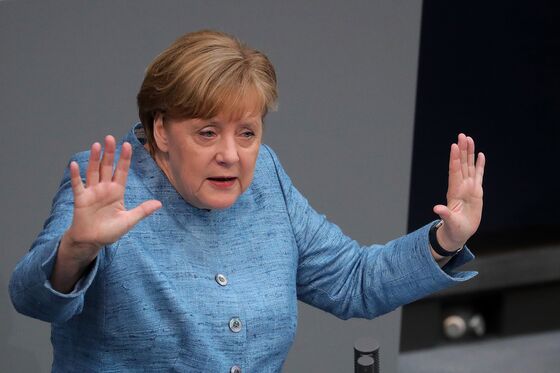 "What is Europe? Europe is a promise of peace," Merkel told health research students in the Portuguese coastal city of Porto. "And Europe has kept this promise" for seven decades, the longest stretch in its history.
"Our common currency, the euro, which is often discussed in very technical terms, is the best guarantee that we can continue with that," Merkel told the students.
The German leader has said little this week about the political crisis in Italy and the fresh fears that the currency crisis, which came to define her chancellorship in the first half of the decade, may return. But her appearance on the panel with Portuguese Prime Minister Antonio Costa was part of a bid to blunt the surge of populist anxiety, which lies at the root of the Italian standoff, by reaching out directly to European citizens.
The initiative has been embraced by French President Emmanuel Macron as European political systems struggle to deal with a groundswell of anti-establishment politics.
Merkel made an untypical two-day trip to Portugal, a country that was battered by the euro crisis and became one of the bailout recipients after agreeing to spending and wage cuts. While crisis-era politics didn't come up in public, Costa's left-wing government has reversed many of those policies, bucking an austerity agenda championed by Merkel and her allies.
Costa hosted Merkel for dinner in Porto and planned to continue political talks in Lisbon on Thursday. The two leaders earlier visited a technology center of German engineering company Bosch in the northern city of Braga, where engineers are developing self-driving car technology.