Italy Banks Under Scrutiny as Messy Politics Prompts Downgrades
(Bloomberg) -- Italian lenders, caught in the eye of the country's political tempest, have come to be a "difficult investment," according to Bank of America Merrill Lynch, among those to downgrade stocks in the sector.
Multiple risks ranging from wider sovereign-bond spreads to potential difficulties in selling non-performing loans are eating into positive sentiment spurred by improvements seen in past months, analysts said.
The FTSE Italia All-Share Banks Index has fallen 21 percent since reaching this year's high on April 24. Banco BPM SpA, Banca Generali SpA and Unione di Banche Italiane SpA are among lenders to have dropped more than 20 percent in the same period.
The sharp declines have led some to suggest that the latest jolt to European political stability presents an opportunity to snap up Italian banking shares, many of which had resurfaced from years of underperformance. UniCredit SpA Chief Executive Officer Jean Pierre Mustier sought to calm markets on Tuesday telling Bloomberg TV that the sell-off is driven by fears that aren't justified by Italian economic performance or the lenders themselves.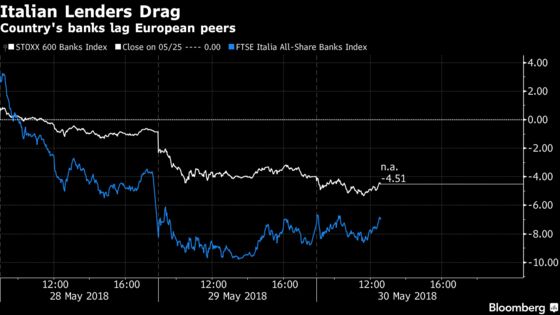 Here are the views of some banking analysts on the sector:
Bank of America Merrill Lynch, Alberto Cordara
The possibility of new elections where populist parties join forces makes Cordara less comfortable with the investment proposition of Italian banks. The brokerage downgrades four banks under his coverage on higher cost of equity and cuts in estimates.
UniCredit, Intesa Sanpaolo SpA downgraded to neutral from buy, Banco BPM, UBI cut to underperform from neutral
Keefe, Bruyette & Woods, Hugo Cruz
Cruz sees many risks for banks from the escalating political crisis and a "highly uncertain outcome." He has switched focus from medium-term earnings potential to the relative ranking of the lenders in terms of sensitivity to the most pressing risks, such as exposure to Italian sovereign bonds.
Downgraded Intesa, UBI, BPER Banca SpA to market perform from outperform; UniCredit remains the only Italian bank rated outperform
Credit Suisse, analysts including Jan Wolter
Italy's political turmoil holds risks for European banks. Wider spreads could derail banks' guidance of lower funding costs, while capital market volatility negatively affects market fees and fund flows. Italian lenders' efforts to reduce exposure to bad loans could be at risk.
In a contrarian view, analyst Enrico Racioppi on Wednesday raised Intesa and Mediobanca SpA, which is among the best performers on the benchmark today, to buy from neutral.