Here's Where Things Stand on the Trump-Kim Summit
(Bloomberg) -- The U.S. and North Korea are pushing to salvage a summit between Donald Trump and Kim Jong Un planned for June 12 in Singapore.
As of Thursday afternoon in Asia, it appeared likely to go ahead. Kim said the situation on the Korean Peninsula was moving rapidly toward talks, Interfax reported on Thursday, after he met Russian Foreign Minister Sergei Lavrov. White House spokeswoman Sarah Huckabee Sanders said Wednesday the U.S. was still preparing for the meeting to take place on June 12, but also said a different day such as July 12 would be possible.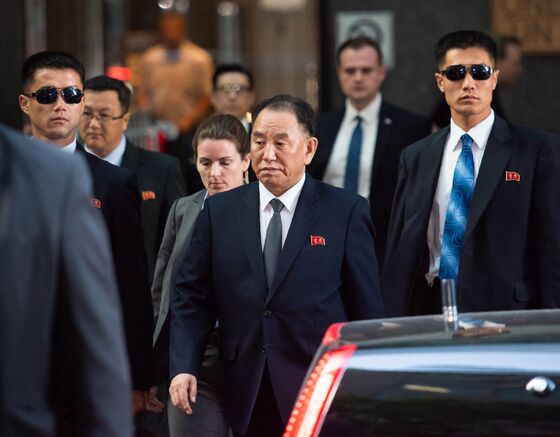 Kim Yong Chol, North Korea's former spy chief, had dinner in New York with Pompeo. Two other sets of talks are going on in Singapore and in North Korea. Here's our latest wrap: Top North Korean Adviser Meets Pompeo in New York to Plan Summit
The U.S. is looking for something historic in order to have a successful summit, a State Department official told reporters in New York on Wednesday night. The official, who asked not to be identified, said Trump is clear the U.S. requires complete, verifiable, irreversible denuclearization.
Lavrov invited Kim to visit Russia. The North Korean leader said he values President Vladimir Putin's stance against U.S. hegemony, Interfax reported.
Kim Jong Un announced late last year he had obtained the ability to strike the U.S. with a nuclear weapon, and soon after sought talks with South Korea on participating in the Winter Olympics. The moves defused immediate threats of military action by the U.S.
In March, Trump stunned the world by agreeing to meet Kim after South Korean officials told the U.S. president that North Korea would suspend missile and nuclear tests, tolerate American military drills and move toward denuclearization.
On May 10, Trump announced that he would meet Kim on June 12 in Singapore. Two weeks later he canceled the meeting in a letter to Kim, citing "open hostility" from North Korea. After North Korea issued another statement praising Trump, he later indicated the summit could take place as previously scheduled.
Key events that may impact the summit:
May 31: Pompeo holds talks with Kim Yong Chol in New York
June 1: Inter-Korean talks take place at the DMZ
June 1-3: Singapore hosts annual meeting of defense ministers
June 2-4: Commerce Secretary Wilbur Ross heads to China for trade talks
June 7: Japanese Prime Minister Shinzo Abe heads to White House
June 8-9: Group of Seven nations meet in Canada
June 9-10: Shanghai Cooperation Organization summit in China
June 12: Planned date of Trump-Kim meeting
Read these stories for more context: