Cohen Cites Avenatti's Legal Woes in Bid to Bar Him in Suit
(Bloomberg) -- Michael Cohen, President Donald Trump's longtime lawyer, said a recent bankruptcy court ruling against Michael Avenatti's old law firm should disqualify the lawyer for Stormy Daniels from participating in a legal case over material seized from Cohen in an FBI raid.
Eagan Avenatti LLP, founded by Avenatti more than a decade ago, was hit last week with a $10 million judgment in federal bankruptcy court in Santa Ana, California, in an unrelated dispute with a former law colleague who argues he's owed millions of dollars in profits and fees for his work.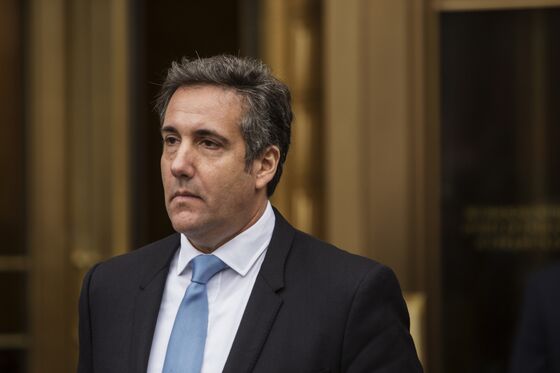 Records from the dispute include an arbitration panel order that found Avenatti's firm "acted with malice, oppression and fraud," Cohen's lawyer Stephen Ryan said Tuesday in a letter to U.S. District Judge Kimba Wood, who is overseeing the review of evidence seized from Cohen's properties.
In an email, Avenatti called Cohen's letter "patently false" and an "act of desperation." Avenatti also noted that the judgment relates to his old law firm, which is winding down.
Wood, who has scheduled a hearing for Wednesday, is weighing Avenatti's request to participate in the New York matter. Such permission -- normally a formality -- is needed because Avenatti is not licensed to practice in New York. Cohen previously urged Wood to reject Avenatti's request because he publicly disclosed Cohen's confidential banking information, including hundreds of thousands of dollars in payments from companies with business before the U.S. government and an investment firm tied to a Russian oligarch.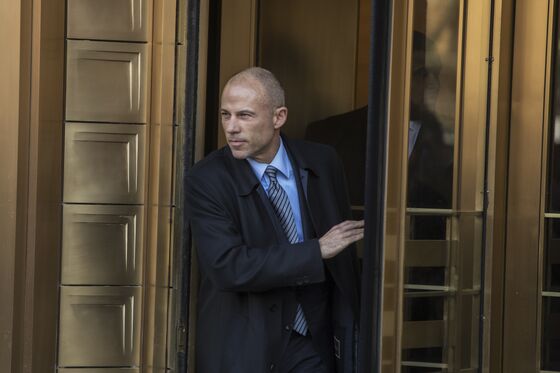 Daniels, an adult film actress whose real name is Stephanie Clifford, sued the president to get out of a $130,000 non-disclosure agreement she struck in October 2016 to keep silent about an alleged sexual encounter she had with Trump more than a decade ago. Avenatti is seeking to protect any privileged communications between Daniels and her previous lawyer, Keith Davidson, that may have been passed on to Cohen at the time he arranged the hush agreement.
Avenatti previously said the $10 million judgment is irrelevant to the Trump dispute and that his past is being unfairly scrutinized to distract from the wrongdoing of Cohen and others.
No arbitration panel "ever found that Eagan Avenatti LLP acted with malice, oppression and fraud," Avenatti said in a filing late Tuesday, calling Cohen's claim a red herring designed to distract the judge.
"Rather, the panel permitted a former non-equity partner of the firm to amend his arbitration claim for punitive damages and seek such a finding," Avenatti said. "The arbitration was subsequently dismissed by the agreement of all parties and therefore no final orders were ever issued."