U.S. Signals En+ Relief If Deripaska Cuts Stake to Mid-40% Range
(Bloomberg) -- The U.S. Treasury Department has indicated it may allow Russian oligarch Oleg Deripaska to keep his ownership of En+ Group Plc in the mid-40 percent range under a deal that would spare the company from sanctions, a person familiar with the matter said.
While Treasury hasn't provided a specific target for Deripaska's holding it had generally signaled his stake would need to be meaningfully below 50 percent, said the person, who spoke on condition of anonymity. Deripaska currently owns about 66 percent of the company, according to an En+ annual report.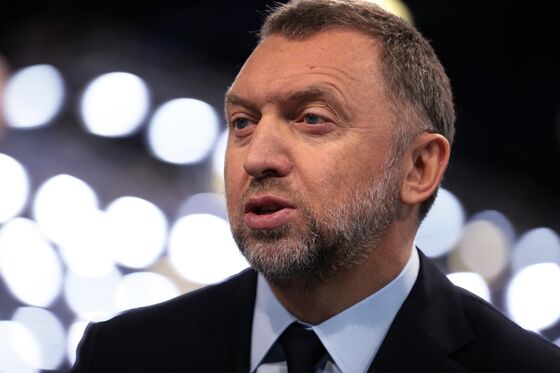 A Treasury Department spokesman declined to comment, citing a policy against speaking publicly on pending petitions for sanctions relief. A spokeswoman for Deripaska also declined to comment.
En+ shares jumped as high as 8.9 percent in Moscow to 323.50 rubles, most in more than a week and traded up 7.2 percent at 5:10 p.m. local time.
Deripaska is among a group of Russian tycoons and companies with ties to Russian President Vladimir Putin who were hit with U.S. sanctions April 6 in retribution for the Kremlin's alleged meddling in the 2016 presidential election. The sanctions initially disrupted the global supply chain for aluminum and sent prices soaring because the targets included United Co. Rusal, Russia's largest producer of the metal.
The tycoon's fortune almost halved since sanctions were imposed early in April to $3.9 billion, according to Bloomberg Billionaires Index.
En+ announced that Deripaska was stepping down from the boards of En+ and Rusal. En+ is expected to present a new board to Treasury's Office of Foreign Assets Control by the end of June, and apply to be removed from the sanctions list in July, the person said. The company's lawyers in Washington are engaged daily with Treasury's sanctions office.
En+, which owns about 48 percent of Rusal, has applied for an extension to avoid trading halt by the London Stock Exchange in order to cut Deripaska's stake and appoint a majority of independent directors. Barring an extension, the LSE said En+ GDRs would stop trading.
The U.S. has been receptive to working with En+ and Rusal -- Treasury Secretary Steven Mnuchin has said he isn't seeking to put the Russian aluminum giant out of business. Mnuchin in late April extended a deadline for companies to wind down dealings with Rusal by almost five months to October.
By stating that Deripaska must cut his stake below 50 percent, Mnuchin offered an unusually explicit formula for a sanctioned entity to avoid U.S. sanctions. The move is an indication that the Trump administration wants to target Putin's allies without causing broader economic harm.