U.S. Futures Fall as Italy's Political Turmoil Hits Markets
(Bloomberg) -- U.S. equity futures tumbled, following global shares lower, as Italy's political turmoil deepened. U.S. 10-year Treasuries and the dollar advanced as the euro touched its lowest level since July. Oil extended losses after Saudi Arabia and Russia said they are mulling a boost to production later this year.
S&P 500 Index futures declined 0.7 percent in New York as the risk of fresh elections in Italy mounted, even as premier-designate Carlo Cottarelli puts together a cabinet. In Spain, the opposition called a no-confidence vote against Prime Minister Mariano Rajoy, increasing the chance of a snap election. Dow Jones and Nasdaq futures matched the S&P decline.
"There was a lot of complacency in the market recently, so this is a brutal wake-up call for investors who had forgotten about political risks in Europe and especially in Italy," said Andrea Tueni, head of sales trading at Saxo Banque France. "The risk is that the populist parties gain ground in the next Italian election, which would be really bad news for the euro zone. Clearly, investors are moving to the sidelines for now."
Events in Italy are reviving worries over the future of the euro zone. A gauge measuring the likelihood of Italy leaving the currency union within the next 12 months jumped to 11.3 percent in May from 3.6 percent in April, according to research group Sentix.
Risk-off sentiment prevailed even as North Korean leader Kim Jong Un was said to have dispatched one of his top aides to the U.S. for talks before a planned summit with President Donald Trump, in a sign that preparations for the June 12 meeting in Singapore are moving forward.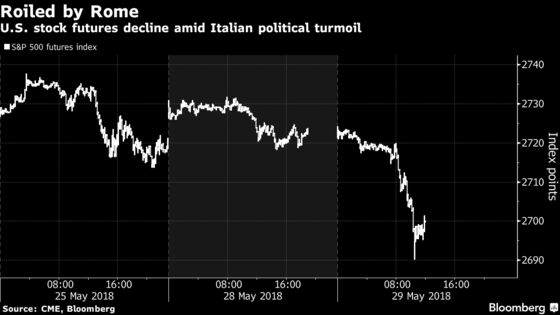 China is said to be considering a plan to buy more American coal as part of an effort to narrow its trade deficit with the U.S.
French President Emmanuel Macron and U.S. Commerce Secretary Wilbur Ross are among speakers at an OECD conference in Paris that lasts through May 30.
Many Southeast Asian markets were closed for holidays, including Singapore, Indonesia, Malaysia and Thailand.