Trudeau Says U.S. Borrowing Is Unsustainable, Touts Longer View
(Bloomberg) -- U.S. government borrowing is not sustainable and divisive social policies will ultimately exacerbate tensions that will disrupt American business profitability, Canadian Prime Minister Justin Trudeau said.
Asked in an interview how his government will respond to competitiveness concerns spurred by U.S. tax cuts, Trudeau said Canada is focused on generating long-term economic growth and wouldn't engage in a "race to the bottom."
"I certainly know that I remain focused on the long term," Trudeau said Tuesday in an interview with Bloomberg's Stephanie Flanders, before appearing to conflate the U.S. debt and deficit. "I mean what's the U.S. debt approaching now, is it a trillion dollars? I mean, we're talking about something that is not sustainable."
"We have to ask the question whether the tax cuts that they've brought in in the United States are sustainable in terms of long-term fiscal stability," he said. The Canadian leader added he doesn't believe in trickle-down economics.
Trudeau spoke in Toronto ahead of the Group of Seven summit that Canada will host next week. At that summit, Trudeau will tout his view of "inclusive growth," in particular programs aimed at supporting gender and cultural diversity in politics and the workplace.
Trudeau warned of societal tensions that could ultimately adversely affect American businesses. "There are a lot of people, whether it's women or marginalized communities or immigrants, who don't feel like there is a path for them to succeed," he said. That is going "to continue to exacerbate tensions that ultimately aren't profitable for business."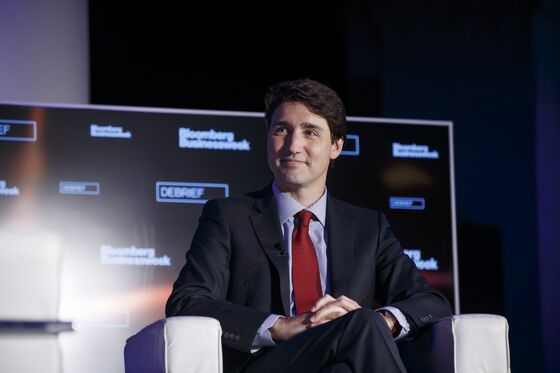 Trudeau touted Canada's fast-track visas for skilled workers, environmental measures, education and social stability.
"If you're making a decision purely based on how you could maximize your profits in the short term, maybe Canada is not the right choice for you," Trudeau said. "But that's not the way more and more successful companies are really approaching their thinking."
"I am very confident that over the medium term, we are going to be and continue to be extremely competitive to the United States and the world," he said.