Russian Journalist Who Was Critical of Putin Shot Dead in Kiev
(Bloomberg) -- A Russian journalist critical of President Vladimir Putin was shot dead at his home in Kiev, the third assassination in two years of a Kremlin foe in Ukraine's capital.
Arkady Babchenko, who moved to the city last year following threats in his homeland, was fired on after returning from buying bread and died of his injuries in an ambulance, local police said late Tuesday. They said the killing may relate to his work.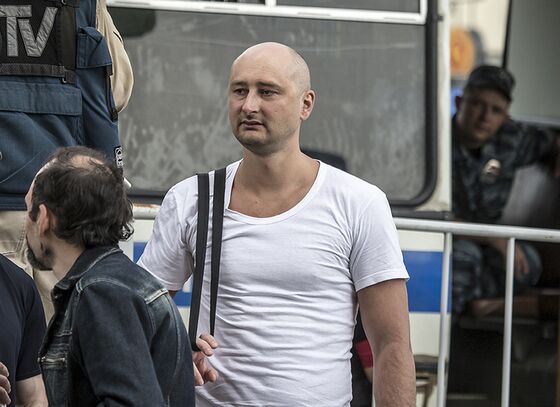 The murder will further strain ties between Ukraine and Russia, post-Soviet allies who fell out following the ouster of Ukraine's pro-Kremlin leader in 2014. That prompted Putin to annex Crimea and back a war on the two nations' border. The incident will also resonate beyond the ex-communist space after the nerve-agent attack on a Russian double agent and his daughter in the U.K. this year triggered diplomatic expulsions around the world.
"Russia's totalitarian machine didn't forgive him his honesty," Ukrainian Prime Minister Volodymyr Hroisman said on Facebook. "He was a real friend of Ukraine who told the truth to the world about Russian aggression."
Russian Foreign Minister Sergei Lavrov complained Wednesday that his country is being accused without proof, calling the killing "a tragedy." Kremlin spokesman Dmitry Peskov said it's "the height of cynicism" to accuse Russia of involvement.
The European Union condemned the killing, saying in a statement that "each time that a voice of freedom is violently silenced, it risks weakening our societies and undermining our democracies." Unlike the suspected political motive behind Babchenko's death, the continent has recently seen journalists probing corruption and the mafia killed in Malta and Slovakia.
Babchenko, 41, rose to fame as a war correspondent in Russia. He traveled to the conflict in Ukraine, which continues to claim lives, and criticized the 2014 downing of Malaysia Airlines passenger flight MH17, which killed 298 people. Investigators from Australia and the Netherlands last week blamed Russia for the tragedy.
Having been called unpatriotic over a piece last year on Russia's intervention in Syria, Babchenko complained of an atmosphere of hate toward his work.
"Some called for me to be stripped of citizenship, others are making an online game where you can beat me to death," he said. "In Russia, dissidents like me are harassed with impunity."
Babchenko worked for a local Ukrainian TV channel and continued to report threats to his life. Police on Wednesday published an identikit picture of his killer. His wife, who was in their apartment when the murder took place, was in shock and unable to be questioned.