It's a Little Too Quiet as Italy Hears Echoes of Eurocrisis
(Bloomberg) -- A relative calm in global markets is at risk of ending abruptly as U.S. traders return from a market holiday to the sight of Italy's government in full-blown political crisis.
Populist parties called for fresh elections after Italy's president refused to endorse their choice of finance minister and appointed Carlo Cottarelli, a former International Monetary Fund official, as prime minister instead.
The political impasse in the third-largest euro-zone economy has sent yields on Italian two-year government bonds up by a whopping 202.4 basis points this month -- the first monthly jump of over 100 basis points since May 2012, when Europe was enmeshed in the debt crisis that triggered existential questions about the single currency. While U.S. Treasury yields slipped some in Tuesday trading, broad measures of volatility remain a fraction of February highs.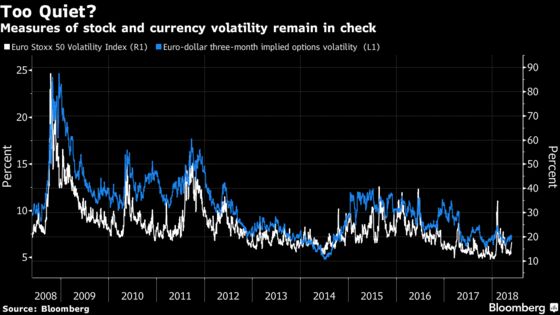 "The lack of an obvious solution to this impasse is troubling, especially given the size of Italy's economy and debt stock," Morgan Stanley analysts including Andrew Sheets wrote in a note dated May 28. "Yet given the worry it's causing, it's notable what hasn't moved."
Implied volatility on the euro and European stocks is still near the lowest levels in 10 years, the bank says. And while the equities gauge did climb over the past week, it remains far below crisis-era highs.
Nevertheless, Italy's political standoff has spurred a risk-off mood. Asian currency markets reacted to the developments on Tuesday, with the Japanese yen -- often seen as a haven -- climbing as high as 108.92 per dollar, the highest level in more than a month. The Chinese yuan also slid 6.4156 per dollar in Hong Kong, the weakest levels in four months.
While the Morgan Stanley crew remains overweight on European equities within a global strategy, it recently trimmed its recommendation and now sees the failure of stock and currency volatility measures to price "peripheral risk" as an opportunity. It supports going long volatility at current levels, they wrote.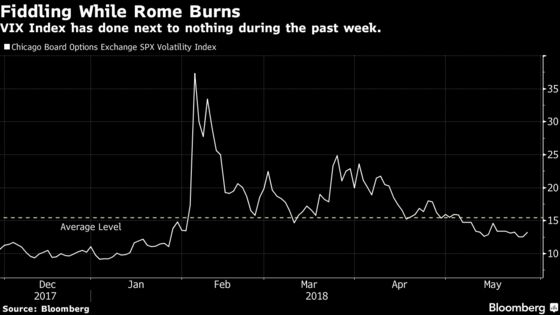 Traditional gauges of volatility last week shrugged off uncertainty surrounding the proposed meeting between Donald Trump and Kim Jong-Un, as well as political risks brewing in Spain and Italy, Alexander Kraemer, head of cross-asset strategy at Commerzbank AG in Frankfurt wrote in a note.
The VIX Index, a key measure of expected stock swings in U.S. stocks, fell 1.5 percent last week to a four-month low. While the Euro Stoxx 50 Volatility Index, a corresponding gauge for European stocks, surged to the highest levels in two months, it remains half-way below February's peak.
"The steepness of the VIX and the VSTOXX futures curve is still lower than normal for the current level of volatility," Kraemer wrote.