Hungary Pours Cold Water on Stimulus Speculation as Risks Deepen
(Bloomberg) -- Investors expecting the injection of big-ticket fiscal stimulus from Hungary's newly elected government are going to have to wait, Finance Minister Mihaly Varga said.
The economic turmoil roiling markets from Argentina to Italy and Turkey has shifted the focus of Prime Minister Viktor Orban's cabinet. It's now prioritizing cutting the budget deficit and reducing a debt pile that's one of the largest in the European Union's eastern wing, veering away from a plan Varga floated to bolster economic growth earlier this month.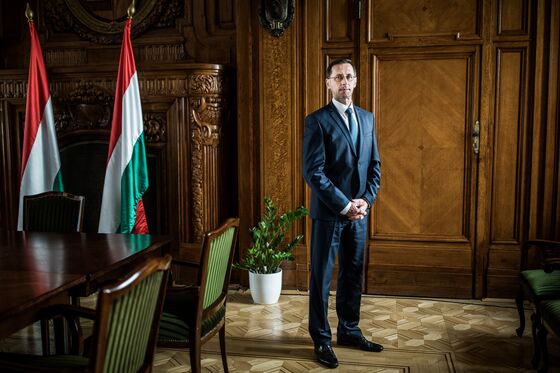 "I believe that in these turbulent times we need more fiscal room," Varga told Bloomberg in an interview on Tuesday. "That means cutting the deficit and strengthening budget reserves."
Memories of market turmoil are still fresh in Hungary, which needed an International Monetary Fund-led bailout in 2008. Orban, who stabilized public finances after returning to power in 2010, was re-elected to a fourth term in April. He has demanded his ministers bring in annual growth of at least 4 percent through 2022, which has boosted speculation from investors that his administration would turbo charge the economy with fiscal stimulus.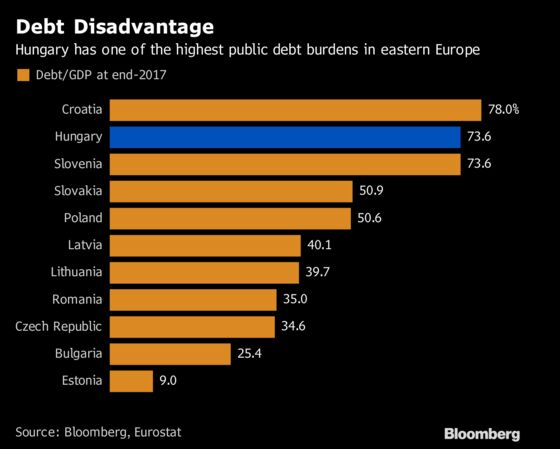 Hungary is enjoying an upturn and the $130 billion economy may expand 4.1 percent in 2019, allowing the cabinet to "significantly" reduce the deficit even with the budget remaining "expansionary," Varga said. His ministry will stick to cutting the payroll tax rate two percentage points to 17.5 percent next year, raising some child benefits and maintaining a housing subsidy program.
That said, the room for further stimulus is limited by the upheaval in global markets and the start of monetary tightening in the U.S., which have hit emerging assets, including Hungary's. The forint fell to a two-year low against the euro on Tuesday as political turmoil in Italy dented riskier assets across the continent. Hungary's 10-year bonds are on track this month for their worst performance since 2012.
"Our goal is to reduce risks and this means significantly cutting the deficit and continuing with debt reduction," Varga said. "That may also mean that our economic growth rate may fluctuate."
The European Union's executive warned Hungary on May 23 that it needed a structural adjustment of 1 percent of gross domestic product this year and 0.75 percent next year to correct a "significant deviation" from an acceptable medium-term fiscal path.
The cabinet plans to reduce the shortfall to 1.8 percent of GDP or lower from a targeted 2.4 percent this year and continue reducing the debt level, which stood at 74.2% of annual output at end-March, Varga said. He added the government plans to submit next year's budget to parliament on June 12 and lawmakers may approve by July 20.
With a spike in its borrowing costs, the government isn't planning a Eurobond issue at this stage, as it's working to continue reducing the foreign-currency share of government debt, Varga said. The biggest single source of privatization revenue would be the sale of Budapest Bank, which the government bought from GE Capital in 2015. There's no decision yet on the timing of the sale nor on whether it should be done as a straight sale or as a public listing, he said.