German Finance Chief Says Italy's Pro-Europe Forces Will Prevail
(Bloomberg) -- German Finance Minister Olaf Scholz said he's confident pro-European forces will carry the day in Italy, even as the country's political crisis triggered a market selloff.
"I know that the Italian people are very pro-European," Scholz said in a Bloomberg Television interview in Berlin on Tuesday. "So I think we could be optimistic, though there is a political debate about building a new government. But this is something that will not change the more pro-European approach of the Italians."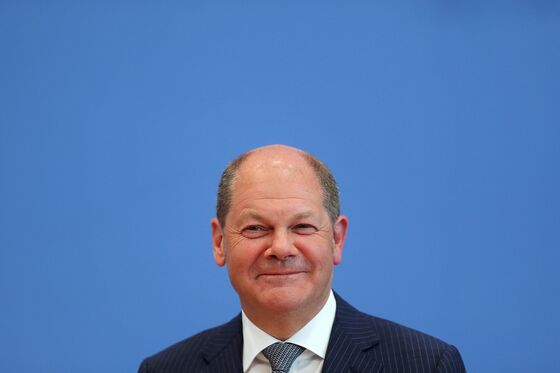 It's the most expansive reaction yet by a member of Chancellor Angela Merkel's government since the political standoff in Italy, the euro area's third-biggest economy, escalated last weekend. Merkel said Monday it's important to recall "that we have principles in the euro area," a reference to the currency union's fiscal stability rules.
While Scholz is betting on Italians to recognize that staying in the European Union and the euro has more benefits than drawbacks, the political turmoil is rekindling memories of the euro zone's woes of the past decade. The debt crisis that spread from Greece in 2010 led to a series of sovereign bailouts, which Merkel consistently supported against critics in her party.
Scholz said nationalist policies lead countries astray and backed French President Emmanuel Macron's proposals for more euro-area integration.
Macron is right "that we need progress, and that we need it urgently in the European Union and that we should work very hard to get the progress now," he said in the interview.
On trade, Scholz said the EU stands against "protectionism and tariffs" and won't allow the U.S. to split it. "We are acting together," he said. "This is what we said to the United States and I think that's an important experience to understand."
Scholz, whose Social Democrats are Merkel's junior coalition partner, said earlier that politicians need to offer practical solutions, not populist rhetoric, to address voters left behind by globalization.
Many people "are unsettled and believe those who propagate a confrontational, purely national policy as the solution to all problems," Scholz said in a speech in Berlin. "This is a big, dangerous error."