EU Smacks Down German Official for `Lecture' to Italian Voters
(Bloomberg) -- The European Union's top two officials made dramatic interventions in the Italian political crisis as they distanced themselves from Germany's EU commissioner over comments indicating he was telling Italians how to vote.
Amid surging bond yields across the euro area triggered by Italy's political crisis, European Budget Commissioner Guenther Oettinger told Deutsche Welle that he expected financial markets to become so volatile they teach voters to turn their backs on non-mainstream parties, according to video excerpts of the interview the broadcaster posted in a tweet. Oettinger later apologized for the remarks.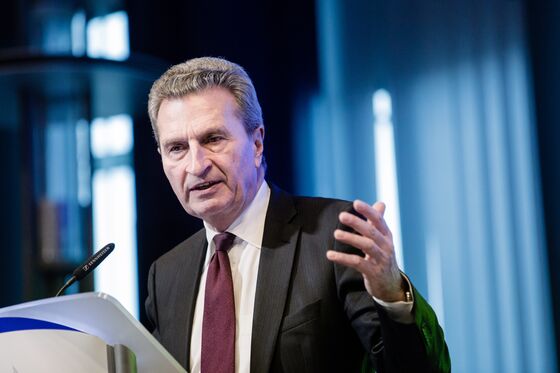 "My concerns and expectations are that the coming weeks will show that developments in markets, government bonds and Italy's economy could be so drastically impacted that they serve as a signal to voters not to vote for populists on the right and left," he said in the interview. Oettinger said he could "only hope" that the market turmoil already seen will encourage people "not to hand power" to nationalist groups.
In a rare show of public disagreement among EU officials, EU President Donald Tusk posted his own message on Twitter a short time later. "My appeal to all EU institutions: please respect the voters," he said. "We are there to serve them, not to lecture them #Italy."
European Commission President Jean-Claude Juncker, head of the EU executive in Brussels, followed with a statement saying that he was convinced that "Italy's fate does not lie in the hands of financial markets."
Italy is in political limbo after the populist League and Five Star Movement's effort to form a government fell apart on President Sergio Mattarella's veto of their proposed finance minister. A technocratic government, which could be sworn in as early as Wednesday, is unlikely to survive subsequent parliamentary votes of confidence, meaning Italy will probably move to new elections as soon as the summer.
Oettinger later issued a statement apologizing for his remarks in the interview. "By referring to the actual market developments in Italy, I did not mean to be disrespectful," he said.
It's not the first time the Oettinger, an ally of German Chancellor Angela Merkel, has hit the headlines for the wrong reasons. In 2016, he caused an outcry after he referred to Chinese people as "slit eyes," said women couldn't succeed professionally without quotas and questioned the merits of gay marriage. Earlier that year, he failed to disclose a flight on the private plane of a German businessman.
In 2011, when Japan was struggling to contain an accident at the Fukushima Dai-Ichi nuclear power plant crippled by an earthquake and tsunami, he jolted investors by saying a "major disaster" may be on its way, before admitting his remarks were based partly on media reports.