EU Regional Aid for Eastern Europe to Shrink in New Budget
(Bloomberg) -- The European Union's regulatory arm proposed a new method for distributing regional aid under its first post-Brexit budget, shifting part of the funds from eastern Europe to countries in the south of the continent that face unemployment and migration challenges.
As part of the 2021-2027 fiscal plan totaling 1.28 trillion euros ($1.5 trillion), the European Commission seeks to overhaul its 373 billion-euro cohesion policy as part of efforts to plug a 10 billion-euro annual hole in the EU coffers that will result from the U.K.'s scheduled withdrawal from the bloc next year.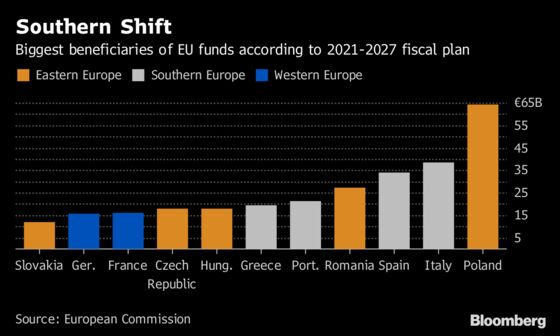 Faced with new pressing challenges, such as terrorism and migration, the commission of President Jean-Claude Juncker wants to modify aid eligibility criteria by lowering the weight given to gross domestic product and taking account of other factors such as unemployment, climate change and the integration of migrants.
"Over the next decade, cohesion policy will help all regions modernize their industry and invest in innovation and the transition to a low-carbon, circular economy," Commission Vice President Jyrki Katainen said in a statement. "In addition, our proposal will further contribute to a business-friendly environment in Europe, setting the right conditions for growth, job creation and investment."
East European members of the 28-nation EU are set to see the biggest cuts in the aid they benefited from in the current multi-year budget. Funds for Poland would shrink to 64.4 billion euros in 2018 prices compared with almost 84 billion euros in the 2014-2020 fiscal plan, while Hungary would see a decrease of around 24 percent to 17.9 billion euros.
EU Regional Policy Commissioner Corina Cretu said the proposed shift in funding away from eastern Europe mainly reflects its increased prosperity since countries there joined the bloc in 2004.
"Many new member states have made impressive social, economic progress," Cretu told reporters in Strasbourg, France."This is a fact and, in the end, it's a good thing."
Currencies in eastern EU nations continued recent weakness against the euro on Tuesday, with the Czech koruna ranking among the worst emerging-market performers with a 0.5 percent decline against the euro. The Hungarian forint fell 0.3 percent, while the Polish zloty was little changed.
"We disagree with the current budget proposal as it significantly cuts development funds," Hungarian Finance Minister Mihaly Varga said in an interview. "Hungary, along with other regional countries, opened up their markets to western firms when they had a competitive disadvantage. This was a serious sacrifice and cohesion funds were intended to compensate for that."
Polish Prime Minister Mateusz Morawiecki said that his country "certainly won't accept" lower aid in the next EU budget, adding he expected other nations to also oppose "similar proposals."
The multi-annual EU budget needs the unanimous support of national leaders and the backing of the European Parliament.