Italy's Political Crisis Deepens, Elections Are Next: QuickTake
(Bloomberg) -- Almost three months after elections, Italy remains without a real government. The country sank further into political chaos on Sunday after President Sergio Mattarella rejected a euro-skeptic finance minister put forward by populist leaders Matteo Salvini and Luigi Di Maio in their bid to form a government together. Mattarella vetoed the candidacy of the would-be minister, Paolo Savona, bringing an end to the Five Star Movement/League project of setting up Italy's first populist government. Mattarella on Monday asked economist Carlo Cottarelli to try and form a government instead.
1. Who is Cottarelli and how long will he last?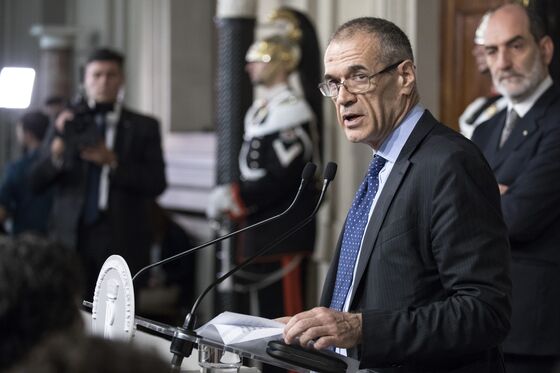 He's a former executive director at the International Monetary Fund, and probably not long. Cottarelli, who earned the nickname "Mr Scissors" for his strict approach to state finances, could be successful in drafting a cabinet list, but it's unlikely he will have much support in parliament, where Five Star and the League control the lion's share of seats. Both parties are expected to vote against a Cottarelli administration in confidence measures and Silvio Berlusconi's Forza Italia will vote "no" as well, according to party officials. That could trigger elections as soon as early September. Even so, Cottarelli and his cabinet would remain in office to run daily business until a new government is sworn in. It is likely his government would try to change the electoral law which caused the current gridlock.
2. What should markets worry about?
Italy's stock market bounced back at the open Monday, and the spread between Italian and German bond yields -- an indicator of Italy's prospects -- fell on investors' relief that Italy won't have a euro-skeptic finance minister, indicating they see less risk to both the Italian economy and the euro area. But political uncertainty is far from over, and Italy is likely to face another round of elections with Salvini's League poised to make new gains. Salvini has said he will again put forward Savona's name for the finance post. The Italy-Germany 10-year spread reached the widest since 2014 last week on prospects of a Five Star/League government, and widened further Monday as Cottarelli prepared to meet Mattarella.
3. When will the next election take place?
As early as September, with newspaper Corriere della Sera mentioning Sept. 9 as a likely date. Even if short-lived, Cottarelli's cabinet will have to deal with key gatherings and deadlines. The agenda includes a Group of Seven summit in Canada June 8-9, an EU summit June 28-29, and preparing the 2019 budget, which has to pass through parliament by the end of the year.
4. What are the populists planning?
Salvini and Di Maio, both "upset" at the events of Sunday evening, are already back in campaign mode. In a video posted on his Facebook page Monday, Salvini said, "either EU rules change or it makes no sense for Italy to remain in the European Union." Still to be seen: will the League run again as part of the traditional center-right alliance, with Forza Italia, or forge a new electoral pact with Five Star?
5. What about impeachment?
Five Star leaders are discussing a possible attempt to seek Mattarella's impeachment on the basis of overstepping his mandate. The process to remove a president from office looks lengthy and includes the appointment of an external commission; a successful outcome for the populists here looks dubious. Mattarella's office declined to comment on the report of a possible attempt to impeach him.
6. Who will win the next election?
Recent opinion polls show a significant pick-up in support for the League, which had 22.9 percent support according to an average of polls complied by YouTrend on May 24. The League got 17.4 percent of votes in the March 4 election. Five Star now has 31.7 percent compared with 32.7 in March. Alliances will weigh heavily in the outcome, as will the electoral law in place at the time of the vote.